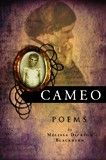 By Melissa Dickson Blackburn
Reviewed by P.T. Paul
New Plains Press, 2011
$12.95, Paperback
Conventional wisdom holds that a cameo is either an oval piece of jewelry "consisting of a portrait in profile" or "a short descriptive literary sketch that neatly encapsulates someone or something" and that a sonnet is a poem of fourteen lines, usually romantic in nature. In the case of Melissa Dickson Blackburn's Cameo, conventional wisdom would be both right and wrong. While there is a portrait in profile on the cover of the book, it is the one posed full-face—an emaciated figure whose dark gaze and articulated ribcage startle for their incongruity in the cameo setting—that is most compelling. And within the covers of her book there is a preponderance of fourteen-line poems, but these are not your typical sonnets. Blackburn's poetry startles just as surely as the portrait in the cameo frame startles, but with the same juxtaposition of expected and unexpected, conventional and unconventional. And her sonnets are love poems, but they embrace her heritage, her family, her childhood, and her grown self, while encompassing the influences of her artistic education and experience.
Consider "First Edition," the first poem, in which Blackburn deftly plumbs the analogy of an inherited book as a totem of self, a representation of growth and change: "his book and I advanced station to station," while she considers "what we own, what we know, and how long we hold the things we receive." This opening salvo in her poetic campaign grabs the reader's attention, impressing upon him or her that this poet maneuvers between the imagined moments of deprivation and death during the Civil War, as in "Bread Ration" where she "swallowed the memory / of my brothers with every crumb of Elmira / hard tack" and the present-day hospital room of "When My Father's Eyes Opened We Ran For the Nurse" in which her retired soldier father issues "the epic rattle" of his last breath, to which she replies "Bravo, Daddy. Well done."
Within these seventy-seven pages of poems, the repeating rhythm of fourteen lines is interrupted by shorter poems such as "My First Husband," an eight-line poem in which Blackburn employs a mirror image effect to capture the experience of six years spent "stepping lightly against the sway," and longer poems such as "I Wandered Like I Wandered Lonely" in which she evokes the startling image of "a WeeGee murder scene" in juxtaposition to Degas' Absinthe Drinker and sprinkles in the echoing sounds and images of Amaryllis, Vesuvius, and Narcissus, ending with the warning, "Tomorrow the volcano blows." However, it is in poems like "Blue Flower, Blackbirds at the Buddhist Temple of Gesshoji" that she demonstrates her poetic dexterity not only by invoking Wallace Steven's "Thirteen Ways of Looking at a Blackbird," but also by linking the thirty thousand blue hydrangeas for which the temple is famous to Der Blaue Reiter (The Blue Rider) group of German artists and Albert Goldbarth's poem "Second Thoughts" in which Dante Gabriel Rossetti's sheaf of unpublished poems rests on the blue burial gown of his beloved wife Elizabeth Rossetti.
There is much war in this collection of poems: the Civil War, the Revolutionary War, the Korean conflict, the war games of children, the war between the generations, and the war within one's self, but there are also Coney Island, Gourmet magazine, quantum mechanics, the first stethoscope, Bazooka gum, a sniper stalking panther print panties in her semainier, and a 1982 Cadillac Fleetwood Brougham. Where else but in a poem titled "Paradise Lost" could one enjoy the interplay of myths such as Aeschylus's Prometheus and Marvel Comic's Wolverine, and the interplay of words such as "adamantine," "adamant," "adamantium," and "Adam Ant"? Where else but in a poem titled "What Is Mortal Will Be Swallowed Up By Life" can we be reminded, "You are the wave as it breaks on the shore / and the particle that filters upward / through a slant of light in the open door."
In Cameo, Melissa Dickson Blackburn has given us true cameos—short descriptive literary sketches that neatly encapsulate persons, places, and events—as well as fourteen-line poems that explore the very meaning of the word "love," and she has rendered them with the depth, breadth and grace that only an artist can. April 2011
P.T. Paul received her B.A. from the University of Montevallo and her M.A. from the University of South Alabama.