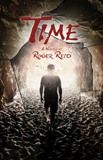 By Roger Reid
Reviewed by Sarah Eckermann
Junebug Books, 2010
$19.95, Hardcover
Roger Reid's Time is the third book in a series that serves to introduce young people to scientific locales in Alabama. The title refers to the Steve C. Minkin Paleozoic Footprint Site, located just south of Jasper. Primary characters Leah Pickens and Jason Caldwell are invited to visit there to look for fossils, learn more about the ancient history of the area and—figuratively speaking—travel back in time.
Enter the educational element of the story. Similar to Reid's two previous books, Longleaf and Space, Time is a vehicle. Young readers are introduced to factual information woven into a moderately-paced storyline which includes both actual and fictional characters and settings. It can be a little tricky to differentiate between the characters based on actual people and those created by Reid, but that doesn't impede the enjoyment of the story.
The story picks up two months after Jason's adventures in Space, which took place at the Conrad Swanson Observatory in Huntsville. Jason is now being asked by Leah to explore the archeological site near Jasper, unsuspecting that Carl Morris has escaped from prison. Morris is a career criminal who, like Leah and Jason, has maintained his presence in all the books. In Space, Morris was arrested and imprisoned, and the conflict begins here when readers discover early that he is on the loose and could potentially make his way to seek his revenge
on Jason. Leah, of course, is wary but not too concerned, and Jason's parents wrinkle their eyebrows but nevertheless can't wait to send Jason to the paleontological site where he will no doubt impress everyone with his intelligence.
Fast forward a handful of chapters to when Leah and Jason arrive at the site. The pair gets in about a day of chiseling before it becomes known that someone is stealing fossil footprints and has to be stopped. Could it be Carl Morris? Could it be a member of the Alabama Paleontological Society? Who knows? But readers can trust that Leah and Jason are going to be asked to help figure out the mystery.
Time is an adventurous read. The action includes a tumble down a mountainside, a raging tornado, and the discovery of a fossil thief. The characters are likable, and getting to know Alabama is a treat. According to Reid's Web site, he's working on a fourth book. This reader predicts that Morris finally gets what he deserves, a maximum security prison term, and that Leah and Jason will finally admit that they like each other. March 2011
Sarah Eckermann is currently pursuing a Masters in Education with a concentration in English Language Arts at Troy University.