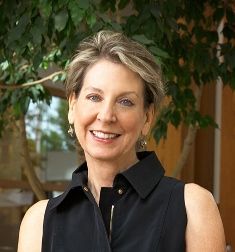 The Alabama Humanities Foundation (AHF) elected a former Forum board member and Huntsville-based biotechnology executive as its new chair. AHF elected Lynne Berry, vice president of Advancement for HudsonAlpha Institute for Biotechnology, as its new chair. Berry served on the board of the Alabama Writers' Forum in 2009 and 2010.
"I look forward to serving as the board chair in 2016 for the Alabama Humanities Foundation," Berry said. "The humanities enrich and illuminate our lives, especially the history and literature of the state of Alabama. I'm excited about working to ensure that all citizens of Alabama have access to meaningful humanities-based programs AHF offers."
A native of Huntsville, Berry graduated from Lee High School and Vanderbilt University. She was the founding executive director of the Community Foundation of Huntsville/Madison County. She has served in the offices of former Congressman Bud Cramer and Senator Jeff Sessions. She has been a high school teacher and a NASA department head. She has worked to promote Huntsville's tourist attractions, to preserve its historic sites, and to protect the area's natural environment.
Berry also serves on the board of directors for Leadership Alabama, Alabama Humanities Foundation, Public Affairs Research Council of Alabama, and Bryant-Jordan Scholarship Program.
"We are fortunate to have someone of Lynne's caliber to lead our board in the coming year," said AHF Executive Director Armand DeKeyser. "Her work in various leadership capacities on our board has kept our organization moving forward."
The Foundation also named five new members to its board to lead the organization in 2016. These newly named to the board of directors to serve with Berry include Dr. Carmen Burkhalter, dean of Arts and Sciences at the University of North Alabama; Dr. Kern Michael Jackson, director of the African-American Studies program at the University of South Alabama (USA) and distinguished tenured faculty member in the Department of English at USA; Dr. Michael Burger, dean of the College of Arts and Sciences and Professor of History at Auburn University-Montgomery; Dr. Daniel C. Potts, neurologist and co-author of A Pocket Guide for the Alzheimer's Caregiver; and Trey Granger, Chief Deputy Clerk of the United States District Court for the Middle District of Alabama.
"This is an impressive class of leaders," DeKeyser said, "and it is an honor to be able work with them all this year as we continue to promote and advocate for the humanities in every corner of Alabama."
The Alabama Humanities Foundation mission is to foster learning, understanding and appreciation of our people, communities and cultures. As the state affiliate of the National Endowment for the Humanities, the AHF supports and offers programs that will enhance the minds and enrich the lives of Alabamians.