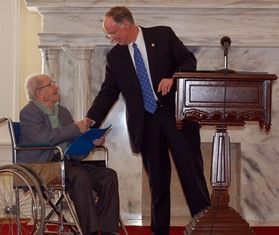 Alabama Poet Laureate and Writers Hall of Fame inductee Andrew Glaze died in his sleep at home in Birmingham on February 7. He was 95.
Governor Robert Bentley commissioned Glaze as the eleventh Poet Laurette at a ceremony in the Old Supreme Court Archives in the State Capitol in November 2012.
He was inducted into the inaugural class of the Alabama Writers Hall of Fame in June 2015.
"The Alabama literary community has lost a friend of poetry like no other," said Alabama Writers' Forum Executive Director Jeanie Thompson. "Andrew Glaze's poems were testimonials of our life in the South, including our foibles and our deep differences. As he grew older, his poems often bit deeper but also touched our hearts with true gravity. I am deeply saddened to hear of his passing but so glad I was able to know a poet of such range and conviction."
Glaze is the author of eight books of poetry, and he has published two collections of selected works. Glaze initially won critical acclaim with the publication of his first book, Damned Ugly Children: Poems (Trident Press, 1966). His latest volume of poetry is Overheard In a Drugstore (NewSouth Books, 2015).
"Glaze was an American master, who wrote with astonishing vigor and clarity and ever exhorted us to reach for the truth," said NewSouth publisher Suzanne LaRosa. "It was an honor to call Andy a friend and to be able to publish at NewSouth Books the last two collections in his long adult life."
According to the Encyclopedia of Alabama, "Glaze has received Poetry magazine's Eunice Tietjens Award, and the American Library Association included his book Damned Ugly Children in its Notable Books List for 1966. Library Journal chose I Am the Jefferson County Courthouse as one of the best small press titles of 1981. He has won a National Hackney Award, and his selected poems, Someone Will Go On Owing, received the Best Book of the Year Award from the Southeastern Booksellers' Association in 1998. He was also the first recipient of the ABA Online Award the same year."
Born in Nashville in 1920, Glaze soon moved with his family to Birmingham, where his father practiced medicine. He attended Harvard College and served as a lieutenant in the U.S. Army Air Corp during World War II. After the war, he briefly attended Stanford University.
Glaze eventually returned to Birmingham, where he worked for nine years as a reporter for the Birmingham Post-Herald. He moved to New York in 1957 after he testified against a deputy sheriff during a civil rights trial. There, his career flourished with publications of his poems and productions of his plays. After several years in Miami, Glaze returned to Birmingham in 2004.
He is survived by his wife, former dancer and actress Adriana Keathley; his son Peter; daughter Elizabeth; daughter-in-law; son-in-law; three grandsons, and one granddaughter.
Photo: Gov. Robert Bentley (right) congratulates Andrew Glaze on his new commission. (Barbara Reed)