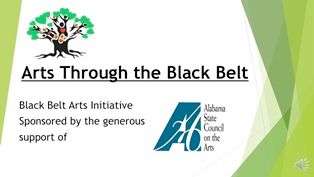 On Saturday, January 30, 8:30am – 3:30 pm at Wallace Community College in the Hank Sanders Technology Building in Selma, Alabama, the Black Belt Community Foundation (BBCF) with the support of the Alabama State Council on the Arts (ASCA) will present the Stronger Festivals in Alabama's Black Belt Workshop to aid community festival planners across the Alabama Black Belt region.
Panel discussions will address the wide array of essential issues that professionals and volunteers who plan and execute community arts and cultural festivals of any type can benefit from. Panel topics will include:
• The Do's and Don'ts of Starting a Festival
• Conducting Needs Assessments
• Budgets and Fundraising for Your Event
• Finding and Approaching Sponsors
• Using Social Media to Promote Your Event
Festival Planning Experts from across Alabama and outside it will participate as well as The Alabama Department of Tourism. Such festivals and events as the Okra Festival, Black Belt Roots Festival, the Alabama Tale Tellin' Festival, Rock N' Ribs Benefit, The New Orleans Cigar Box Guitar Festival, and Alabama's currently top-rated festival the Boom Days Heritage Celebration have been confirmed so far and will be represented.
AGENDA
8:30 am to 9:30 am Conference/Workshop Check-In
Continental Breakfast
9:30 am to 9:35 am Welcome
9:35 am to 11:00 am Panel Discussion: Do's and Don'ts When Starting a Festival
Debra Eatman
Festival Coordinator
Black Belt Folk Roots Festival
Dr. Tina Jones
Executive Director
Division of Economic Development and Outreach
The University of West Alabama
Collins Kirby
Designer and Coordinator
Boom Days Heritage Celebration
Designer and Producer
New Orleans Cigar Box Guitar Festival
11:00 am to 12:00 pm Conducting Needs Assessment: How to Gather Information On Assets and Deficits When Starting a Festival.
Linda Vice
Director
Southwest Alabama Tourism & Film Office
Kristin Law
Art Programs and Marketing Director
Black Belt Treasures Cultural Arts Center
Barbara Evans
Festival Coordinator
Okra Festival
12:00 pm to 1:00 pm Lunch
Using Social Media to Promote Your Event
Jo Jo Terry
Digital Market Director
South Alabama/Gulf Coast Regional Director
Alabama Department Tourism
1:00 pm to 2:15 pm Budgets and Funding for Your Event – Types of Festivals
Deb Boykin
Community Arts Program Director
Alabama State Council on the Arts
Martha Lockett
Executive Director
ArtsRevive
Alabama Tale Tellin' Festival
Dr. Carol Zippert
Festival Coordinator
Black Belt Roots Festival
2:15 pm to 3:15 pm Fundraising and sponsors:
When Making the Ask, What Do You Do
Jay Lamar
Executive Director
Bicentennial Commission
Gena Robbins
Public Relations Specialist
Division of Economic Development and Outreach
University of West Alabama
Mayor of York
Collins Kirby
Designer and Coordinator
Boom Days Heritage Celebration
Designer and Producer
New Orleans Cigar Box Guitar Festival
Daron Harris
Publicity Director and Co-Producer
Boom Days Heritage Festival
3:15 pm to 3:30 pm Closing Remarks and Wrap Up
For more information, contact the Black Belt Community Foundation