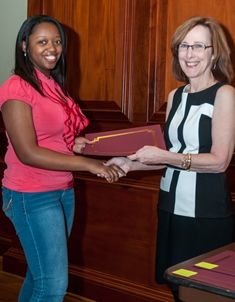 The Forum is making a change to this year's Alabama High School Literary Arts Awards and Scholarship Competition as we move toward online submission for all categories. Since we need a year to complete this process, we are downsizing to two submission categories for 2016, still offering the Senior Portfolio awards—with 7 this year—and the literary magazines competition. As a result, we will extend the deadline to January 31, 2016.
Students should submit their portfolios online and mail their literary magazines with the printed entry form to the Forum's office.
Finally, the Forum will host a reception and luncheon for the winning students, their teachers, and up to two guests each in the Old Archives Room of the Alabama State Capitol on March 16, 2016, at 11 a.m. Legislators will be invited for pictures from 11 a.m. – 12 p.m. Lunch will be served shortly thereafter.
For more information, contact the Alabama Writers' Forum at 334-265-7728 or writersforum@bellsouth.net.
Photo: AWF Executive Director Jeanie Thompson congratulates a student writer at the 2015 HSLAA. (Terry Bruno-fotowerks)