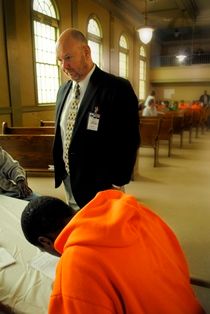 An audience of students, faculty, staff, and guests assembled in the Chapel of the Alabama Department of Youth Services (DYS) Vacca Campus on October 27 to celebrate the release of Too Far from Home, the new Writing Our Stories (WOS) anthology of poems and short fiction edited by teaching writer Tony Crunk.
Addressing the audience, DYS Executive Director Steven Lafrenier said, "It's important that we're here today. It's important to celebrate these young writers. Being an artist does not come easy. It takes hard work. Yes, there's inspiration, but there's a whole lot of perspiration."
Continuing, he said, "Having arts programs in the schools is important. These programs give students a chance to take a break from academics to discover what they have inside that they may not have known that they had before."
Forum Executive Director Jeanie Thompson emphasized the freedom that the arts allow.
"Think about the freedom you're living through creative writing," she said. "Yes, you're behind a fence right now, but you're free to go anywhere you want to through your writing. There's a gift of freedom in this program."
After an introduction by Crunk, two students read from their work published in Too Far from Home. Eleven student writers from this year's class read a selection from the book and one of their newly written works.
Writing Our Stories is an award-winning creative writing collaborative program whose partners include the Alabama Department of Youth Services, the ABSOP project, and the Alabama Writers' Forum. Additional funding has been provided by the Alabama State Council on the Arts. The Children's Trust Fund provided funds for the WOS Curriculum Guide.
Copies of this year's anthologies are available from the Forum for a $5 shipping and handling charge for each book. To order, contact the Forum at 334-265-7728, toll free at 866-901-1117, or at writersforum@bellsouth.org.
Photo: Steve Lafreniere has his copy of Too Far From Home signed. (Cyndi Grimes-Department of Youth Services)
(Below is a sample from Too Far from Home.)
This Place
My room is small and cold like a coffin.
The floors are cold and clammy
Like something you left out all night.
It's always so loud, people talking 24/7,
Or you hear the dominoes being slapped down
Like little firecrackers always popping.
But I cherish the time
When we go back to our rooms after free time,
Because then there is no noise,
And I can get lost in a book, like a fairy tale.
And I read my Bible every day
Like it is my best friend.
I always talk to Him and ask for advice.
I look forward to getting letters like a little kid
Waiting for something his parents promised.
But I make sure I learned my lesson,
So I won't come back to all the things
That remind me of this place.
E.B.