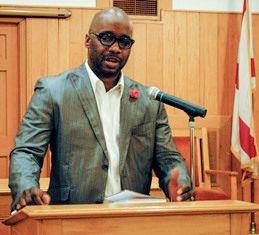 "How do we pull this thing off called 'life'?" asked Christopher Thomas, a self-described entrepreneur, addressing the assembled students, guests, faculty, and staff in the Chapel on the Department of Youth Services Mt. Meigs Campus for the eighteenth annual Writing Our Stories (WOS) anthology release on October 22. "Successful people read."
Thomas said that he has begun a regimen of reading two to three books a day.
"I wanted to make changes in myself," he said, "to reach out to mentors. Mentors don't have to be living people; they can be found in books."
Thomas' professional background is in branding & marketing in industries such as health, entertainment, technology, hospitality, and more. Currently he runs a marketing and media company, inMMGroup, with subsidiaries inAtlanta, inCharlotte, inMontgomery, inMobile, and inNewOrleans. His entertainment venture inMontgomery recently celebrated its fifth anniversary.
Thomas offered a formula for a successful life.
"When you finish the program here," Thomas said to the newly published writers, "people will seek you out. A good formula for success is to spend 33% helping people with less knowledge than you, 33% of your time with people of equal knowledge, and 33% of your time with a mentor."
After Thomas' address, fourteen students read poems from the new anthology, Open the Door 18, edited by teaching writer Marlin Barton. Seven writers read from their own work, two of whom returned to campus for the ceremony, and seven writers from this year's class read their favorites from the new anthologies.
After the ceremony, the newly published poets signed copies of their publication for guests and enjoyed a cupcake reception catered by Rhonda Goff Barton.
Writing Our Stories is an award-winning creative writing collaborative program whose partners include the Alabama Department of Youth Services, the ABSOP project, and the Alabama Writers' Forum. Additional funding has been provided by the Alabama State Council on the Arts. The Children's Trust Fund provided funds for the WOS Curriculum Guide.
Copies of this year's anthologies are available from the Forum for a $5 shipping and handling charge for each book. To order, contact the Forum at 334-265-7728, toll free at 866-901-1117, or at writersforum@bellsouth.org.
(Photo of Christopher Thomas by Cyndi Grimes)
Below is a sample poem from Writing Our Stories 18:
Let It Leak
By W.D.R.
My father was ashamed
My mother was in pain
I was sitting on this earth lonely
wondering why I came
I remember sitting in the dirt
sketching out my name
There really wasn't a point
because after all it was about to rain
down on a young one
So my name washed away
I should have written pain
so the pain could wash away