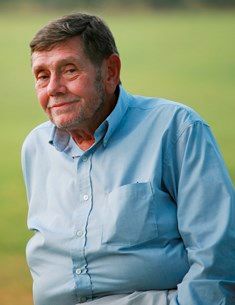 Writer, educator, and literary philanthropist Wade Hall died on September 26. He was 81. A native of Union Springs, Alabama, Hall moved to Louisville, Kentucky, in 1962 after serving a two-year stint in the U.S. Army in the mid-fifties. In Louisville, he taught English and chaired the English and Humanities/Arts programs at Kentucky Southern College and Bellarmine University. He has also taught at the University of Illinois and the University of Florida. He holds degrees from Troy State University (BS), the University of Alabama (MA), and the University of Illinois (PhD). In 2006, he retired to Union Springs with his longtime partner, Gregg Swem. Hall is the author of books, monographs, articles, plays, and reviews relating to Kentucky, Alabama, and Southern history and literature. His most recent books include A Visit with Harlan Hubbard; High Upon a Hill: A History of Bellarmine College; A Song in Native Pastures: Randy Atcher's Life in Country Music; and Waters of Life from Conecuh Ridge. Other writings include hundreds of articles, poems, essays and reviews published in historical and scholarly journals as well as popular magazines and newspapers.
"Dr. Wade Hall made his commitment to the appreciation of Southern literature visible by endowing the Hall-Waters Prize, named after his parents, at Troy University," said Kirk Curnutt, Forum Board member and chair of the English Department at Troy, Montgomery. "Every time it was my honor to organize the event honoring the recipient, I looked forward to working with Dr. Hall. His enthusiasm for great writing, readily apparent in his own work, was infectious. I'll miss him deeply."
Hall was featured in the Fall 2007 issue of First Draft.
(photo by Jamie Martin)