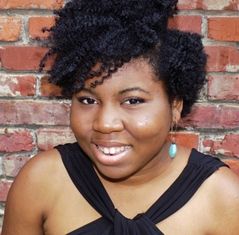 Alabama poet Ashley M. Jones will receive a 2015 Rona Jaffe Foundation Writers' Award, given annually to six women writers who demonstrate excellence and promise in the early stages of their careers. Celebrating its 21st year, the Rona Jaffe Awards have helped many women build successful writing careers by offering encouragement and financial support at a critical time. The Awards are $30,000 each and will be presented to the six recipients on September 17, 2015, in New York City.
Jones is working on her first collection, Magic City Gospel, an examination of history, identity, religion, race, and gender. She says, "It actively engages current social issues, difficult social truths, and my own identity as a Black female poet from Alabama."
Jones received her B.A. from the University of Alabama at Birmingham, and her M.F.A. from Florida International University. Her poems have appeared in pluck! The Journal of Affrilachian Arts & Culture and PMS poemmemoirstory, among others.
Her nominator writes, "[Ashley] confronts race and identity through pop culture, history, and her own personal experiences—but there is something new and exciting going on. Her poems approach the complicated racial and national identity of the author with heartache and humor in a voice that also speaks to her generation."
Jones is currently working as a Creative Writing faculty member at the Alabama School of Fine Arts. She will use her Writers' Award to devote her attention to finishing her first book and engaging in creative writing outreach in the Birmingham community.
"My poems are deeply rooted in my own experience, but they are also heavily influenced by the community in which I live," she said. "I am devoted to the manuscript I've created and extremely passionate about what I think it can do in the world. I want to be a model for young writers of color and show them that their writing can be political and it can tell important stories without compromising literary merit."
Celebrated novelist Rona Jaffe (1931-2005) established The Rona Jaffe Foundation Writers' Awards program in 1995. It is the only national literary awards program of its kind dedicated to supporting women writers exclusively. Since the program began, the Foundation has awarded more than $2 million to emergent women writers, including several who have gone on to critical acclaim, such as Elif Batuman, Eula Biss, Lan Samantha Chang, Rivka Galchen, Aryn Kyle, Rebecca Lee, ZZ Packer, Sharifa Rhodes-Pitts, Tracy K. Smith, Mary Szybist, and Tiphanie Yanique.