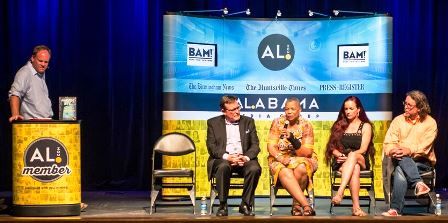 People of all ages mingled, nibbled on heavy hors d'oeuvres, and listened to the blues of Gip Gipson inside Iron City on Birmingham's Southside on July 14 for The Next Chapter, a celebration for the release of Harper Lee's "new" novel, Go Set a Watchman. Books a Million and the Alabama Media Group, cosponsors of the event, received 400 reservations prior to the event and accepted non-ticketed walk-ups as they arrived.
"This is the biggest literary event in Alabama in a very long time," said David Magee, director of news for the Alabama Media Group. "Book sales have been extremely dense."
Husband and wife writers Tom Franklin and Beth Ann Fennelly joined The Next Chapter tour—events were also planned for Huntsville and Mobile—from their home in Oxford, Mississippi, where both teach in the MFA creative writing program. Having not yet read the new book, they offered their insight into Lee and To Kill a Mockingbird.
"I came to the book in my mid-twenties," said Franklin. "I grew up in Dickinson, Alabama, twenty miles from Monroeville. It seemed strange then to have had a classic written so close to my home. When I read it later, it deeply affected me as a reader and as a writer."
Fennelly, who grew up in Chicago, said she first read Mockingbird at age twelve. "The book validated my vision of that tender point when a child becomes an adult," she said. "After having read the book, the South felt like home to me when I moved to Arkansas at twenty-two to attend grad school. I recognized the settings, the small towns, the weather from reading about the South in Lee's book."
As the reception and the blues came to a close, Sharriff Simons opened the program with a spoken-word poem. A select group of community members read from the first chapter of Go Set a Watchman. Magee introduced the discussion panelists—Priscilla Hancock Cooper, Interim CEO of the Birmingham Civil Rights Institute; Terry Finley, CEO of Books a Million, Fennelly, and Franklin.
Since admittedly only Finley had read the book—released just that morning—most of the discussion centered on early reviews.
"Our discussion focused more on perceptions/speculation about Harper Lee's intent when the book was written in the mid-fifties, her decision to have it published in 2015, and the fact that she specified that there should be no edits," said Cooper. "Since it was written prior to Mockingbird, we discussed whether publishers in 1959 might have been unwilling to publish a book with the themes of Watchman."
She continued, "Early reviews commented about the 'change' in Atticus Finch's attitudes. However, my point of view is (1) the public will evaluate that character once they have actually read the book and (2) we love to build up our heroes and then proceed to tear them down when they don't fulfill our unrealistic standards. So, though fictional, Atticus Finch is probably a man of his times—a complex human being—not the mythic hero that our collective consciousness has created boosted by the powerful screen depiction by Gregory Peck."
Photo: The Go Set a Watchman panel (from left) — David Magee, Terry Finley, Priscilla Hancock Cooper, Beth Ann Fennelly, and Tom Franklin (Terry Bruno—fotowerks)