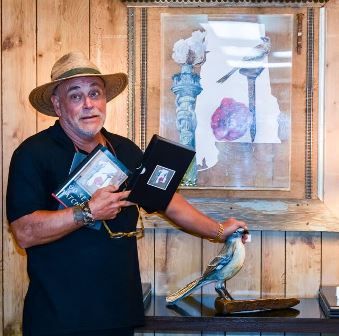 "Jake Reiss called and asked if I would design a special dust jacket for Harper Lee's new book, Go Set a Watchman," said the artist Nall inside Alabama Booksmith in Birmingham. "'Well, what's it about?' 'No one knows, he said.' Having been born in Pike County and traveling the world and seeing how other people see Alabama I knew what it was about. Living here was my source of inspiration."
The jacket—and its accompanying prints—depicts the Statue of Liberty, a mockingbird perched upon a railroad spike, and a red camellia on an outline of the State of Alabama.
Nall explained that Liberty represents many things. It symbolizes New York, where Lee wrote the manuscripts of her two novels. And it represents the liberty inherent in the civil rights movement, a theme in both Go Set a Watchman and To Kill a Mockingbird.
He also pointed out the inscription on her forearm, "Isiah 21:6"—the source of the book's title—and that her flame is cotton.
"Cotton is the reason the railroad came to Alabama," explained Nall. "The publisher's jacket shows a railroad track. The spike represents that railroad. It also represents the Christian South, a spike used at the Crucifixion. The blood red camellia marks Monroeville on the map, and the bird, of course, is for To Kill a Mockingbird."
Nall also sculpted a mockingbird and a railroad spike for the book release.
Reiss, owner of Alabama Booksmith, had set up a display table that included stacks of Go Set a Watchman and To Kill a Mockingbird alongside Nall prints. Customers browsed and bought, the store never emptying as people came and went.
At the back of the store, Kerry Madden signed copies of her young adult biography, Up Close: Harper Lee. Her publisher, Viking, re-released the book with an updated cover, biography, and jacket content to coincide with the release of Go Set a Watchman. Madden decorated her table with an H. Upmann Cigar box—filled with childhood treasures—souvenir postcards for her book, and still shots from the Mockingbird film.
"I feel very fortunate that Viking re-released the book in time for Go Set a Watchman, and I am especially grateful to independent booksellers such as Jake at Alabama Booksmith," said Madden.
Photo: Nall poses with the leather-bound copy of Go Set a Watchman, his print, and his mockingbird and railroad spike sculptures. (Terry Bruno—fotowerks)