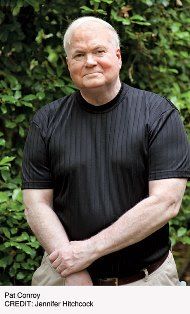 Troy University will award its Hall-Waters Prize to renowned author Pat Conroy at a private ceremony during the Alabama Book Festival in Montgomery on April 11. One of the most popular Southern writers in the past forty years, Conroy's work includes the bestselling novels The Great Santini and The Prince of Tides, published in 1986 and adapted to the screen for the 1991 Academy Award-nominated film by the same title. Conroy is a featured author at the Festival.
The Hall-Waters Prize was established by Troy alumnus Dr. Wade Hall, an author, former member of the faculty at the University of Florida, and professor emeritus of English at Bellarmine University in Louisville, KY. Hall, a native of Bullock County, endowed the prize as a memorial to his parents, Wade Hall Sr. and Sarah Elizabeth Waters Hall. The award is presented regularly to a person who has made significant contributions to Southern heritage and culture in history, literature, or the arts. Past winners include Rep. John Lewis, Rick Bragg, and Bobbie Ann Mason.
"Pat Conroy has produced an amazing body of writing over his forty-five-year career," says Dr. Kirk Curnutt, chair of English at Troy University's Montgomery Campus and a director of the Alabama Book Festival, which Troy University co-sponsors with the Alabama Writers' Forum, Old Alabama Town, and several other organizations.
"The complicated family dynamics explored in both his fiction and nonfiction are universal, but Pat's own background as a child of a career military officer and a graduate of The Citadel lends his work a powerful personal valence that enthralls his fans. Because he is also a thoroughbred Southerner, his language rings with the charm and beauty of place. Simply stated, he's an icon. We're honored he would accept the Hall-Waters Prize and thrilled for him to appear at the Alabama Book Festival," Curnutt said.
Conroy's other works include South of Broad, (2009), and nonfiction works such as bestselling memoirs The Water is Wide (1972), My Losing Season (2002), My Reading Life (2010), and The Death of Santini (2013). Several of his books have been made into popular movies, in addition to The Prince of Tides, directed by and starring Barbra Streisand with a script co-written by Conroy.
Now in its tenth year, the Alabama Book Festival is a free event celebrating reading, literacy, and the history of the book, held at Old Alabama Town at 301 Columbus Street in Montgomery. In addition to Conroy, upwards of forty writers from various genres and for various ages will speak and sign books. The festival is also offering workshops in fiction writing, comic-book writing, and on independent publishing. Click for a schedule of authors and events on April 11.
Sponsors for the Festival include Alabama Bench and Bar Society, Alabama Humanities Foundation, Alabama State Council on the Arts, Alabama Writers' Forum, Capitol Book & News, City of Montgomery, Drake Law Firm, Montgomery City/County Public Library, Old Alabama Town / Landmarks Foundation, Southern Literary Trail, Troy University, and Wettermark Keith.