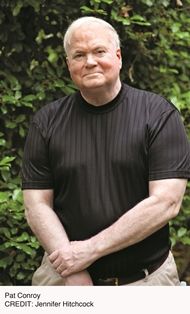 More than thity-five authors fill the lineup of the 10th Annual Alabama Book Festival on April 11 in Montgomery's historic Old Alabama Town. Among them will be bestselling author Pat Conroy, festival organizers announced today. In addition to presenting at the festival, Conroy will accept the Hall-Waters Prize from Troy University. The award is given to individuals who have made significant contributions to Southern heritage and culture in history, literature or the arts.
The annual book festival is a family-friendly, free event that includes book-related activities for all ages. Among the sixty-plus exhibitors will be publishers, authors, schools, libraries, and literary and arts organizations.
Books by festival authors will be available for purchase courtesy of Montgomery independent book store Captiol Book and News. Genres represented at the festival include fiction, nonfiction, poetry, young adult, and children's books.
Some of the Festival authors include James E. Cherry, whose latest collection of poetry is Loose Change. He has been nominated for an NAACP Image Award and a Lillian Smith Book Award and was a finalist for the Next Generation Indie Book Award.
What Stands in a Storm by Kim Cross is about the April 27, 2011, tornadoes that ripped across Alabama. The foreword of her book is written by another festival author, Rick Bragg, whose latest book is a biography, Jerry Lee Lewis: His Own Story.
Rod Frazer's Send the Alabamians recounts the story of the 167th Infantry Regiment of the WW I Rainbow Division from their recruitment to their valiant service on the bloody fields of eastern France in the climactic final months of World War I. Frazer is a graduate of Huntington College and a member of the Alabama Business Hall of Fame.
Also appearing at the festival is Faye Gibbons, whose young adult novel Halley is set in Depression-era Georgia mountain country.
Montgomery native Ravi Howard is the author of Driving the King, a fictionalized account of Nat King Cole and his driver, Nat Weary.
Bryan Stevenson is a widely acclaimed public interest lawyer who has dedicated his career to helping the poor, incarcerated, and condemned. He will be talking about his book, Just Mercy: A Story of Justice and Redemption, which made the New York Times 100 Notable Books of 2014.
Daniel Wallace, author of Big Fish, will discuss his first children's book, The Cat's Pajamas, which he also illustrated.
Alabama Book Festival coordinator Gail Waller said that in addition to author presentations, plenty of other events will appeal to all ages.
"A host of activities for children are planned, and fun things like a scavenger hunt and a giant crossword puzzle will challenge festival-goers," said Waller. "It also happens to be International Tabletop Day so we're going to have board games available. One of them will be Thrones and Bones, a game based on the book of the same name by festival author Lou Anders."
Three free writing workshops for those wishing to hone their skills and learn more about the publishing world are scheduled. "Fiction Writing and the Joys of the Mystery Genre" will be taught by Reed Farrel Coleman; an "Introduction to Sequential Arts (Comic Book Creation)" will be taught by Nathaniel Allen and Al Hobbie; and "Opportunities in Independent Publishing" will be led by a panel of independent publishers and a self-publisher.
As part of its educational outreach, the Alabama Book Festival Student Readers Group program selects one Alabama-related book per year for high school and college students to read prior to meeting the author for a book discussion at the festival. This year students are reading the memoir Selma, Lord, Selma: Girlhood Memories of the Civil Rights Days and will meet co-author Sheyann Webb-Christburg, known as the "youngest foot soldier" in the historic Selma march, during a session at the festival.
Another festival outreach program is a creative writing workshop for middle and high school teachers on Friday, April 10. The workshop is produced by the Alabama Writers' Forum with support from the Support the Arts Car Tag, Troy University and others. To learn more about the April 10 teacher workshop, contact writersforum@bellsouth.net. The workshop is free but registration is required.
As a special feature of this year's festival, the Southern Literary Trail will sponsor a reading from Addie Pray, Joe David Brown's novel of con games in Depression-era Alabama, by members of the Alabama Readers Theatre. Addie was depicted by Tatum O'Neal in Paper Moon, Hollywood's 1973 version of the book transplanted to Kansas.
Food and drinks will be sold throughout the day. "Since this is Year of Alabama Barbecue, we thought we'd join in that celebration by having some barbecue vendors," Waller said. "It promises to be a fun day, but we cannot do this without all our sponsors, partners, and volunteers."
Sponsors of the 2015 festival include Old Alabama Town/Landmarks Foundation, the City of Montgomery, the Alabama State Council on the Arts, Troy University, the Alabama Humanities Foundation, Capitol Book and News, the Alabama Writers' Forum, the Montgomery City-County Public Library, the Alabama Bench and Bar Historical Society, Wettermark Keith, Drake Law Firm, and others to be announced.
To view the full festival schedule, sign up for a workshop, or volunteer to help at the festival, visit the website at www.alabamabookfestival.org.
(Photo of Pat Conroy by Jennifer Hitchcock)