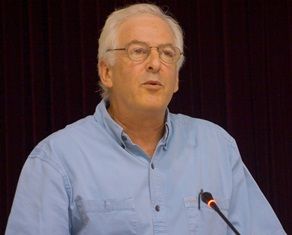 Hank Lazer chosen as 2015 Harper Lee Award recipient
Hank Lazer of Tuscaloosa has been selected to receive the Harper Lee Award for Alabama's Distinguished Writer of the Year for 2015. The award is made to a living, nationally recognized Alabama writer who has made a significant, lifelong contribution to Alabama letters.
"When I received the phone call telling me that I had been named the recipient of the 2015 Harper Lee Award, I was stunned, shocked, and very pleased," said Lazer. "Honestly, it was difficult for me to believe this good news. Local and regional recognition for my writing has been scarce, and this prestigious award is to be cherished because it represents acceptance and honor bestowed by my home state."
Lazer, a California native, initially came to Tuscaloosa to teach in the English Department at the University of Alabama.
"I was born and raised in California, came to Alabama in 1977, married a Northport woman, and raised a family here," said Lazer. "Virtually all of my significant writing and publishing has taken place while I have lived in Alabama."
Lazer's eighteen books of poetry include N24 (hand-sewn, handwritten chapbook in the Little Red Leaves Textile Series), N18 (complete) from Singing Horse Press (2012), Portions (Lavender Ink, 2009), The New Spirit (Singing Horse, 2005), Elegies & Vacations (Salt, 2004), and Days (Lavender Ink, 2002).
In 2008, Lyric & Spirit: Selected Essays, 1996-2008 was published by Omnidawn. Pages from the notebooks have been performed with soprano saxophonist Andrew Raffo Dewar at the University of Georgia and in Havana, Cuba. Features on the Notebooks appear in Talisman #42, Plume
#34, and First Draft Vol. 16, No. 1, Fall 2009.
With co-editor Charles Bernstein, Lazer edits the Modern and Contemporary Poetics Series for the University of Alabama Press.
In January 2014, Lazer retired from the University of Alabama (where he continues to teach) after thirty-seven years in a variety of positions, including Associate Provost for Academic Affairs, Executive Director of Creative Campus, and Professor of English.
The Harper Lee Award for Alabama's Distinguished Writer of the Year, presented annually by Alabama Southern Community College at the The Alabama Writers Symposium in Monroeville, is made possible through a generous grant from George F. Landegger, Chairman, Parsons & Whittemore.
The Alabama Writers' Forum, a statewide literary arts organization and partnership program of the Alabama State Council on the Arts, coordinates the process to select the Harper Lee Award recipient annually from nominations from the field."
Photo of Hank Lazer by Aldon Nielson