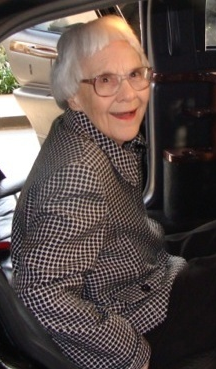 Alabama readers and writers have expressed surprise and delight over HarperCollins' announcement that it will release Harper Lee's novel Go Set a Watchman, a sequel of sorts to her Pulitzer Prize-winning and only novel To Kill a Mockingbird. The book will be released on July 14 and already tops Amazon's best-seller list.
"I think the discovery of Harper Lee's new novel is incredible, wonderful, magnificent," said eminent historian Wayne Flynt, who visited the author in her Monroeville assisted living facility the day before the announcement. "Hopefully we can now see an early draft of a story set in one period of life, which an editor thought unworthy of publication, become a literary classic a year later taking no more than the original characters and issues and thoroughly recasting chronology. To have such an event constitutes a minor literary earthquake.
"I expect the book to be flawed because it did not undergo a year of careful revision at the hands of a gifted writer and editor. We should be able to see both the author's brilliant recasting of the story into a child's world and the fingerprints of the editor in the same way we can see them in the magnificent work of editors who cut, changed, improved, the manuscripts of Thomas Wolfe, Eudora Welty, and others. Most authors pay homage to their editors. Come July, we may see why."
The worldwide literary buzz about the publication of Go Set a Watchman reached the Forum's office on February 4, when Executive Director Jeanie Thompson guested on BBC Radio 5 Live's Up All Night, hosted by Dotun Adebayo. (Slide to 36:25)
"The fact that BBC Radio wanted a reaction from Harper Lee's home state and found the Forum online validates all of our work to promote Alabama's literary community," Thompson said. "Mr. Adebayo gave a keen sense of the excitement across the water about the publication of Lee's second book, and he invited the Forum to visit the program again after the book is published to get Alabama writers' reactions. You can bet we will do that."
In addition to Go Set a Watchman's being a gift to the literary world in general, its release is also happening at a fortuitous time for Alabama in particular. On June 8 in Tuscaloosa, the Forum and the Alabama Center for the Book will induct Harper Lee and eleven other Alabama writers into the first comprehensive Alabama Writers Hall of Fame.
"One month before the publication of her new novel, we will celebrate Harper Lee's contribution to Alabama letters, now spanning fifty-five years," Thompson said. "This brings even more attention to the Hall of Fame and Alabama's long history of literary achievement."
Recent Harper Lee Award recipients Fannie Flagg (2012) and Mark Childress (2014) also commented on the manuscript's discovery and impending publication.
"It's fabulous news," Flagg told Alec Harvey of AL.com. "At 88, to have a new book come out, I'm definitely pulling for her…. If you write a world classic, as she did, [publishing a new book] is a risk. But she's a brave lady. She's not afraid of anything."
Addressing the sceptics, Childress posted on Facebook, "I am only a slight acquaintance of Harper Lee…. I have not read her new book and have not seen her in years. I trust my longtime friend and international agent Andrew Nurnberg (I'm his OTHER client from Monroeville), who saw her just a couple weeks ago and reports that she is "feisty and fiery" and delighted about the publication of her 'new' old book."
Go Set a Watchman is set during the mid-1950s and features many of the characters from To Kill a Mockingbird some twenty years later. Scout (Jean Louise Finch) has returned to Maycomb from New York to visit her father, Atticus. She is forced to grapple with issues both personal and political as she tries to understand her father's attitude toward society, and her own feelings about the place where she was born and spent her childhood.
Lee was born in 1926 in Monroeville. She attended Huntingdon College and studied law at the University of Alabama. She has received numerous literary awards, including the Pulitzer Prize and the Presidential Medal of Freedom.
(Photo courtesy of The Guardian-PR)