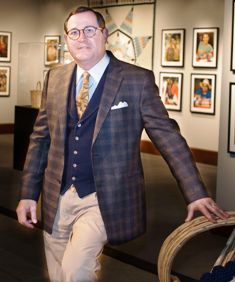 Albert B. "Al" Head celebrates thirty years as executive director of the Alabama State Council on the Arts (ASCA) on February 4, 2015. Long hailed as a visionary arts leader, he is responsible for groundbreaking initiatives that have made ASCA one of the foremost state arts councils in the U.S. His leadership has provided funding growth, long-range planning, support for individual artists, and innovative services to its constituents in all arts disciplines.
Head has worked in the state arts field for over forty-three years, beginning in 1972 with the Fine Arts Council of Florida and continuing through executive director positions with the Stephen Foster Folklife Center, the Louisiana Division of the Arts, and ASCA.
A native of Troy, Alabama, Head earned his undergraduate degree from Troy State University in art history and aesthetics and his Master of Liberal Arts, with a concentration on Southern literature, from Auburn University at Montgomery. He received a National Endowment for the Arts fellowship in 1974 to attend Harvard University's Arts Administration Institute. Head has served two terms on the National Assembly of State Arts Agencies Board, participating in a wide range of committee work. He has been a member of the South Arts board (previously Southern Arts Federation (SAF)) for thirty-eight years and presided as its chair (1983-85). Prior to serving as chair of SAF, Head served as vice-chair (1981-1983). In the state, Head currently serves on the Alabama Humanities Foundation Board and the Advisory Board of the Alabama Department of Tourism.
Head has served on numerous panels for the National Endowment for the Arts and has chaired the Folk Arts and Arts in Education panels. In 1998 he received the Gary Young Award presented by the National Assembly of State Arts Agencies for his leadership and achievements in promoting the arts nationally. In 1999 he received Alumni of the Year from the National Troy University Alumni Association. Further recognition from Troy University came in 2008 in the form of The Distinguished Leadership Award for exemplary dedication and service to the University. In 2012, The National Endowment for the Arts awarded Head with the National Heritage Fellowship, Bess Lomax Hawes Award. National Heritage Fellowships are the nation's highest honor in the folk and traditional arts and the Bess Lomax Hawes Award recognizes an individual who has made a significant contribution to the preservation and awareness of cultural heritage.
Head is the only state arts director to start folk arts programs in three states: Florida, Louisiana, and Alabama.
(Photo by David Robertson Jr.)