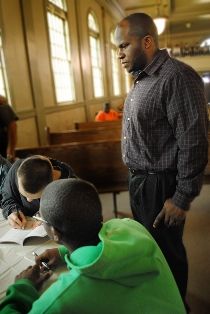 Addressing the newly published Writing Our Stories (WOS) authors, Department of Youth Services (DYS) Executive Director Steven Lafreniere said, "Young men, this is an exciting day, a day that you should be proud of. Your work goes beyond these walls, beyond the fence to touch people that you don't even know. I congratulate you."
The audience of students, faculty, staff, and guests assembled in the Chapel of the DYS Vacca Campus on October 30 to celebrate the release of The Long Road Home, the new anthology of poems and short fiction edited by teaching writer Tony Crunk.
Jason McCall, one of two 2015 Alabama State Council on the Arts Fellowship winners in literature, delivered the keynote address.
"This is important work," said McCall, leafing through his copy of the book. "The message I wanted to bring you today is 'Keep your head up.' We hear this expression when we're in a bad situation. What people are really saying is to be proud of [the outcome of] that situation. No matter what happened, be proud of yourself."
A Montgomery native and multiple award-winning poet, McCall presently teaches at the University of Alabama.
"The other time I heard this expression," he said, "was when I was playing sports. Coach would say, 'Keep your head up. Don't miss the ball.' I say, 'Keep your head up. Don't miss what's in front of you. Follow what you're interested in.'
"When I was in my 10th grade history class, I saw written on the board, 'Sign up for creative writing class.' If I hadn't been paying attention that day, I would have missed that note. I've been writing ever since.
"My last words: Be brave," he said. "Be curious. Don't be afraid to ask. Don't be afraid to say, 'I don't know.'"
After an introduction by Crunk, two students read from their work published in The Long Road Home. Ten student writers from the new class read a selection from the book and one of their newly written works. (Below are a few samples from the anthology.)
Writing Our Stories is an award-winning creative writing collaborative program whose partners include the Alabama Department of Youth Services, the ABSOP project, and the Alabama Writers' Forum. Additional funding has been provided by the Alabama State Council on the Arts. The Children's Trust Fund provided funds for the WOS Curriculum Guide.
Copies of this year's anthologies are available from the Forum for a $5 shipping and handling charge for each book. To order, contact the Forum at 334-265-7728, toll free at 866-901-1117, or at writersforum@bellsouth.org.
Photo: Keynote speaker Jason McCall has his copy of The Long Road Home signed. (Cyndi Grimes-Department of Youth Services)
You Think You Know Me
By De. H.
You think you know me.
You think of me as a criminal.
You think I'm not going to make it.
I'm a person who's been through a lot.
I'm a person who wants to finish school.
I'm a child who wants to go home.
I'm going to chase my dreams,
And be something.
Ghetto Story
By J.N.
The ghetto is where I was raised.
I heard my mama say, "I can't take this, babe."
The ghetto was my life.
It had me stealing and getting into fights.
The ghetto is where I lost my grandma.
I went to her funeral crying.
The ghetto is where I jumped off a porch,
With the police chasing me like it was a sport.
The ghetto is where I left my shadow,
Back in 2007 in the Grove.
Courage
By C.G.
Courage is saying "no" to someone who's wanting to do wrong.
Courage is facing your fears.
Courage is having pride in yourself.
Courage is being 100 to your partner, telling him what's real.
Courage is getting straight to the point.
Courage is cutting someone off for being fake.
Courage is getting to know your enemies as well as your friends.
Courage is being yourself.