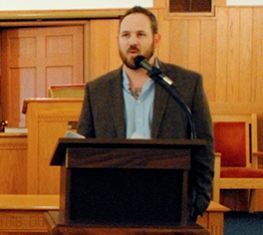 "'Adversity introduces a man to himself,'" said poet and educator Stephen Bray, addressing the assembled students, guests, faculty, and staff in the Chapel on the Department of Youth Services Mt. Meigs Campus for the seventeenth annual Writing Our Stories anthology release. "Many people argue that Albert Einstein said that; others say differently. The fact is that it really doesn't matter who said it. Every man and woman who's faced some type of adversity in their lives knows this statement to be true."
Bray, a decorated U.S. Marine Corp veteran who suffers from post-traumatic stress disorder after serving two combat tours in Iraq, encouraged the student writers to turn to their notebooks in times of adversity.
"I never feel safe," he said, speaking of his affliction. "I don't trust people, and I'm always alert. I often write about my struggles to help myself understand and remember them."
Bray cited Frederick Douglass, Mary Rowlandson, and Wilfred Owen as writers who faced insurmountable adversity, resolved in part through their writing.
"Consider the slave, Frederick Douglass, and how he used writing in his The Narrative of the Life of Frederick Douglass to deal with the trauma of being a slave," he said. "Next, consider a different kind of captive, Mary Rowlandson, [America's first best-seller with her captivity narrative], and how she overcame her struggles [after being kidnapped by Wampanoag tribesmen during King Philip's War] through writing. Finally, consider the warrior poet, Wilfred Owen, and how he used writing as a means to deal with the horrible facets of [the First World War]. Wilfred Owen's words mean so much to me."
After reading his poem, "Driving After War," Bray read two student poems, "Money Is Kidnapping" and "Mom, I Remember You Well," from Open the Door 17, edited by teaching writer Marlin Barton, as exemplary of his theme for the day. (See poems below.)
"When you find yourself dealing with adversity in the future, grab a pen and write," he said. "You may change someone's life just the way Frederick Douglass, Mary Rowlandson, and Wilfred Owen have changed mine."
After Bray's address, eighteen student writers read from the new anthologies. Two students, transferred from the DYS Vacca Campus, read from their anthology, The Long Road Home, edited by teaching writer Tony Crunk. Seven students read from their work in Open the Door 17, and nine writers from this year's class read their favorites from the new anthologies.
After the ceremony, the newly published poets signed copies of their publication for guests and enjoyed a cupcake reception catered by Rhonda Goff Barton.
Writing Our Stories is an award-winning creative writing collaborative program whose partners include the Alabama Department of Youth Services, the ABSOP project, and the Alabama Writers' Forum. Additional funding has been provided by the Alabama State Council on the Arts. The Children's Trust Fund provided funds for the WOS Curriculum Guide.
Copies of this year's anthologies are available from the Forum for a $5 shipping and handling charge for each book. To order, contact the Forum at 334-265-7728, toll free at 866-901-1117, or at writersforum@bellsouth.org.
Photo: Stephen Bray delivers the keynote address at the Open the Door 17 book release. (Cyndi Grimes)
Money Is Kidnapping
By D.D.
Money is kidnapping,
holding you for ransom,
locking you away in a small cage.
Money is kidnapping,
changing your personality,
breaking down the door of your heart,
allowing the corrupt, greedy side in.
Money is kidnapping,
knocking you unconscious
like an ammonia-covered rag
held over your mouth and nose.
Money is kidnapping,
keeping the real you locked away
and blinded from the parts of you
that are moral and generous.
Mom, I Remember You
By D.B.
I can remember your laugh
filling my ears with a beautiful sound,
like music from a grand piano.
I remember your smile
burning bright in the dark
as if it were a torch.
You wrote checks that bounced,
just to get me my every want or need.
I wish I could see your face again,
just one more time in order to ease my pain.
I would give my life to spend one more time with you.
I loved you, Mom, more than I ever said.
I'm sorry that I couldn't make it show.
The last thing I said to you was I love you,
and to this day those words still stand true.