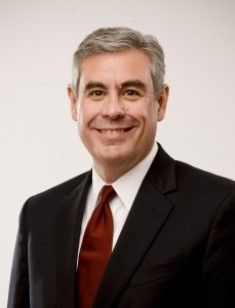 One of Alabama's leading business executives, Mark Crosswhite, will deliver the keynote address at the annual awards luncheon of the Alabama Humanities Foundation (AHF) October 6 at The Club atop Red Mountain.
The luncheon begins at 11:30 a.m. and will include honoring the winners of the Jenice Riley Memorial Scholarship for excellence in teaching; Alabama Humanities Award for contributions to the humanities in the state, Betty McMahon; Wayne Greenhaw Service Award for a past or present board member for outstanding service to AHF, Jack Hawkins; and Charitable Organization to the Humanities, AAA Cooper.
Crosswhite is chairman, president and chief executive officer of Alabama Power Company, which provides electricity to more than 1.4 million customers across the state.
Before taking the helm at Alabama Power, Crosswhite served as executive vice president and chief operating officer for Southern Company, Alabama Power's parent company. He was responsible for Southern Company's operations organization, which includes generation, transmis¬sion, engineering and construction services, system planning, research and environmental affairs, and fleet oper¬ations and trading.
Crosswhite also was responsible for Southern Power, which provides energy to municipalities, electric cooperatives and investor-owned utilities in eight states, and Southern Wholesale Energy, which markets the surplus generating capacity of Southern Company's operating companies to the wholesale market.
Crosswhite started at Southern Company in 2004 as senior vice president and general counsel for Southern Company Generation. Prior to that, he was a partner in the law firm of Balch & Bingham LLP in Birmingham, where he practiced in the Energy Section for seventeen years.
Crosswhite is chairman of the board of the Economic Development Partnership of Alabama. He serves on several other civic and nonprofit boards, including the executive committee of the Birmingham Business Alliance and the boards of directors for the University of Alabama Law School Foundation and the Virginia Samford Theatre. He is vice chairman of the Electricity Committee of the Section of Public Utility, Communications and Transportation Law of the American Bar Association; a member of the Edison Electric Institute Legal Committee; and a graduate of Leadership Alabama.
Crosswhite is a native of Decatur. His family has deep roots in Alabama, dating to the early 19th century. He received a bachelor's degree in 1984 from the University of Alabama in Huntsville and a J.D. degree in 1987 from the University of Alabama School of Law.
Humanities Award recipient Betty Thurman McMahon of Birmingham is a graduate of Huntingdon College and served as a teacher in her career, but her contributions to the humanities came as a community leader, philanthropist, and patron.
She chaired the Birmingham-Southern College Fine Arts Society and served on the boards of directors of Birmingham Children's Theatre and Red Mountain Theatre Company.
She serves on the Board of Managers of Virginia Samford Theatre and was involved in the initial major renovation that reopened the theatre.
Her civic involvement is seen in Alabama Theatre, Sidewalk Film Festival, McWane Science Center, Birmingham Museum of Art, Alabama Symphony Orchestra, Alabama Ballet, Lyric Fine Arts Theatre, and UAB's Alys Stephens Performing Arts Center.
But it doesn't stop there. She works with Sugar Babies dance group, which performs free of charge at theatre and charity events, helping raise significant funds for charities throughout the state.
McMahon earned the Alumni Loyalty Award from Huntingdon College National Alumni Association. At Huntingdon, she has been heavily involved as Gift Agent, member of the National Alumni Board, secretary of the Board of Trustees, and member of the Presidential Search Committee. She has an endowed scholarship in her name that offers students financial assistance to attend Huntingdon.
Wayne Greenhaw Service Award recipient Dr. Jack Hawkins serves as Chancellor of Troy University with campuses in Dothan, Montgomery and Phenix City. His contributions to the foundation are many. He served on the AHF board from 1988-1992. Under his leadership at Troy, the university has hosted SUPER institutes, workshops, and receptions.
He has served as chancellor since 1989. Prior to coming to Troy, he was president of Alabama Institute for Deaf and Blind. He was assistant dean/associate professor, director of Student and Public Relations at University of Alabama at Birmingham, School of Health Related Professions. He also was executive director of Health Careers Council of Alabama, Alabama Hospital Association.
A native of Mobile, he served in the Marine Corps in the Vietnam War. Among his many honors is the Distinguished Public Service Award presented by the Secretary of the Air Force for his service in an advisory capacity to Air Force education efforts, which led to the accreditation of all Air University programs.
Charitable Organization to the Humanities Award recipient AAA Cooper Transportation is based in Dothan and is a multi-regional transportation solutions provider. For the past fifteen years, AAA Cooper has transported -- at no charge -- the Smithsonian Institution's traveling exhibit, Museum on Main Street, throughout Alabama to six host cities per year. The value of that gift is estimated at more than $5,000 per exhibition tour.
The family-owned company had its beginnings in the 1930s and has service centers across the country and in Puerto Rico. Successful partnerships have enabled it to expand into Canada, Mexico, the Caribbean, Latin America, Europe, Asia, Africa and Australia.
AAA Cooper Transportation has earned a number of safety and maintenance management awards for its operation. The company employs approximately 5,000 people in fourteen states. AAA Cooper Transportation is ranked #14 in the Journal of Commerce's annual carrier ranking and was recently recognized as Carrier of the Year by several organizations, including Volvo, Wreaths Across America, and Worldwide Express.
Photo: Mark Crosswhite (courtesy of AHF)