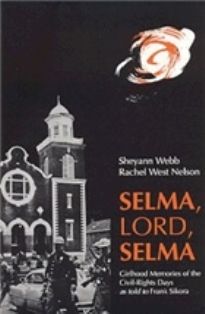 The Outreach/Education sub-committee of the Alabama Book Festival (ABF) planning committee invites high school students and university undergraduates to participate in the fourth annual Student Readers Group. This program for the Festival selects one Alabama-related book per year for participants to read prior to meeting the author and discussing the book at the festival in April at Montgomery's Old Alabama Town. The Student Readers Group seeks to engage high school and college students in Alabama's culture, literature, and history by encouraging the reading of books that connect to or discuss the realities of living in the state.
The subcommittee is pleased to announce Selma, Lord, Selma: Girlhood Memories of the Civil Rights Days by Sheyann Webb-Christburg and Rachel West Nelson as this year's selection. Published in 1997 by the University of Alabama Press, this memoir of the Selma-to-Montgomery March offers a youthful perspective on the era's turbulent events. The book's review in Kirkus Reviews provides this summary:
During the Selma voter registration drive leading up to the Selma-to-Montgomery march, Sheyann Webb was a pint-sized eight-year-old and Rachel West was her nine-year-old neighbor and best friend. Sheyann joined the Movement on her own, playing hooky from school to attend now-historic meetings at the Brown Chapel, and later enlisted her parents in the marches. Rachel, whose whole family was active in the Movement, joined her girlfriend in singing at the church meetings. The girls became favorites of Dr. King and of Jonathan Daniels, a young white civil-rights worker who lived with the West family and was murdered in Lowndes County.
Participants in the Student Readers Group should be currently enrolled in a public or private high school, in an accredited home-school program that places him or her in grade 9-12, or in an accredited college or university as an undergraduate. There is no fee for participating, but students must obtain their own copies of the book. We also invite teachers to involve their classes in this program, and we encourage extracurricular groups, church youth groups, and individual students to participate as well. A professional development session on the program will be offered to teachers who respond about participation.
The Festival asks that students, teachers, or sponsors notify program's coordinator Foster Dickson of their intention to come to the convening at foster.dickson@gmail.com. Program updates will be posted on the Facebook page of the Alabama Book Festival. We can do the best job of planning our convening and having adequate space and resources if we know how many people will be there.
Bookstores and libraries in the Montgomery area have been notified that Selma, Lord, Selma is the selection for the Student Readers Group, and they have been encouraged to stock the title. We ask that all student participants read the book before the Alabama Book Festival.
For any questions, contact Dickson or visit the Alabama Book Festival.