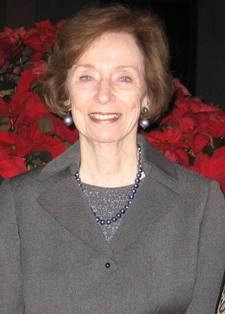 Founding Alabama Writers' Forum Board member, long-time fiction reviews editor for First Draft, and reviewer for AWF Book Reviews Online, Julia "Judy" Oliver died on July 10. A concert pianist as well as talented author, she studied piano performance and piano pedagogy at the University of Alabama, where she earned a Bachelor of Music degree. She also studied at the Julliard School of Music and at Randolph-Macon Women's College.
"This week Alabama lost another beloved literary figure," said Forum Executive Director Jeanie Thompson. "Judy was a founding board member of the Forum from back in the days before we were even incorporated, and she always brought great suggestions to my attention. We are all sorry to have lost Judy."
A Sylacauga native and Montgomery resident, Oliver was the author of four collections of fiction: Devotion (University of Georgia Press, 2006); Music of Falling Water (John F. Blair, Publisher, 2001); Goodbye to the Buttermilk Sky (Black Belt Press, 1994); and Seventeen Times as High as the Moon: Short Stories (Black Belt Press, 1993).
Her fiction was also published in the anthology Belles' Letters: Contemporary Stories of Alabama Women (Livingston Press, 1999) and in literary journals such as Southern Humanities Review, The Chattahoochee Review, The Jefferson Review, and others.
Her literary awards for fiction include the John Esten Cooke Fiction Award (2007); Finalist for Best Books of 2006 from ForeWord Magazine (2006); The Alabama Library Association Fiction Citation (1993); Finalist, PEN/Syndicated Fiction Award (1991); Finalist, Ficus Foundation Fiction Awards (1990); and First Place for Short Fiction, Deep South Writers' Competition (1986)
Her plays include Juliette's Journey (Cloverdale Playhouse staged reading, 2011), Many Winters, Many Moons (Red Mountain Museum Theatre, 1989), and Strings (Montgomery Jubilee Celebration, 1987). Her literary awards for drama include an Alabama State Council on the Arts Interdisciplinary Fellowship (with Cloverdale Playhouse, 2010), an Alabama Humanities Foundation Grant (with Cloverdale Playhouse, 2010), and The Armory Learning Arts Center Award for First Place, Scriptwriting (1986).
Oliver was working on a novel of psychological suspense at the time of her death.
Survivors include a son, John Fairley McDonald III (Patricia Joiner McDonald), daughters Julia Parker McDonald Goyer (James Lawrence Goyer III) and Letitia Arrington McDonald (William Manning Muller) and grandchildren Julia Parker Goyer, Elizabeth Arrington McDonald, Anne Ferrell McDonald, Charlotte Lawrence Goyer, James Lawrence Goyer IV, and Abigail Manning Muller.
In lieu of flowers, Oliver suggested donations be made to the Montgomery County Historical Society or to St. John's Episcopal Church.
Julia Oliver's obituary from the Montgomery Advertiser.
(Photo of Julia Oliver by Chris Fleming)