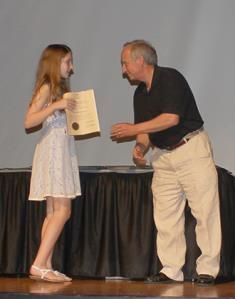 On May 4 at the University of Alabama in Huntsville, the Huntsville Literary Association (HLA) held its 46th Annual celebration of student winners in its Young Writers' Contest. YWC is composed of elementary and middle school divisions in Huntsville and Madison County and a high school division.
The high school division has expanded to over 130 public and private high schools over all of North Alabama and allows online entries to its partner, The Ardent Writer Press, in short story, poetry, and artwork categories. The Ardent Writer Press supports the high school contest, publishes the student anthology, Expressions 2014-Student Voices from North Alabama, free of charge and is not paid for its work. All proceeds go back to HLA for student awards for the next year.
The high school contest is posthumously named The Dorothy Hendry Award for Literary Achievement in honor of one of the founders of HLA and former head of Huntsville High School's English and Literature department.
State Representative Mike Ball (R-District 10, Madison) addressed the audience and recognized student first place winners in his district with certificates from the State Legislature. Executive Director of the Alabama Writers' Forum, Jeanie Thompson, delivered the keynote address. Huntsville City Council President Mark Russell also congratulated winners and made brief comments to the audience.
Photo: Rep. Mike Ball presents a certificate from the State Legislature to First Place poetry winner Caroline Perkinson from Columbia Elementary School. (Justin Gierhardt & Ginny Gilbert)