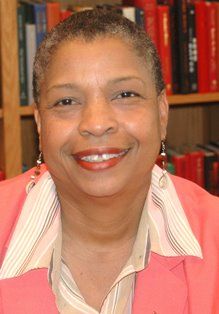 The Birmingham Civil Rights Institute (BCRI) has named Priscilla Hancock Cooper as Interim President and CEO effective May 20, 2014. Cooper will replace Lawrence J. Pijeaux, who is retiring as BCRI's President and CEO on May 30, 2014. Cooper served as a teaching writer in the Writing Our Stories (WOS) program at the Department of Youth Services Chalkville Campus from 1998-2012, when the facility was closed due to tornado damage.
As interim President and CEO, Cooper will manage the organization's day-to-day operations, continue to develop and expand program initiatives, and take a leadership role in the Institute's fund-raising efforts. Cooper has served as BCRI's Vice President of Institutional Programs since 2006 with responsibility for the BCRI departments of Education and Exhibitions, Archives and Technology, Communications, and Development. She has been instrumental in developing programs and grant applications resulting in millions of dollars in major support for BCRI programs.
"I am humbled and honored to accept this leadership position at BCRI during this important transitional period," said Cooper. "At 21 years of age, the Institute is poised to increase its significance locally, nationally and internationally. We will continue to pursue innovative approaches to preserve the history of the Birmingham movement, educate people of all ages about the lessons learned, and inspire and empower committed individuals to create positive change."
"It is important that we maintain continuity of leadership as we search for a new President and CEO," said Lajuana Bradford, BCRI Board Chair. "As we near the end of Dr. Pijeaux's tenure at BCRI and thank him for his accomplishments, we are grateful that Ms. Cooper has agreed to assume this key leadership position, thereby maintaining the momentum that BCRI has achieved over the years."
Cooper's work with BCRI began in 1990 as copywriter, researcher for the permanent exhibition, and education consultant. She returned to the staff in 2000 to lead the Birmingham Cultural Alliance Partnership, BCRI's innovative after-school program. In January 2007, she accepted an award from the President's Committee on the Arts and Humanities in a White House Ceremony for her work as the program's coordinator (2000-2006). She also directed the Leadership Initiative for African American Museums, a national training program for museum professionals.
Cooper is an alumna of the Leadership Alabama Class of 2013, Leadership Birmingham Class of 2011, and the Getty Museum Leadership Institute Class of 2008. A graduate of Lincoln University of Missouri and the American University in Washington, D.C., she has been a communications faculty member and administrator at the University of Louisville (Kentucky) and the University of Montevallo (Alabama). A native of Louisville, Kentucky, Cooper has spent thirty years in Birmingham as an educator, artist, consultant and writer dedicated to preserving and sharing African American history and culture.
Cooper has received two individual artist fellowships from the Alabama State Council on the Arts and has reached thousands of students and teachers as an artist-in-residence. The recipient of numerous awards for community service, Cooper currently is on the board of directors of the Southeastern Museums Conference and Red Mountain Theatre Company. A member of Tabernacle Baptist Church, she is the mother of three adult children and grandmother of six.