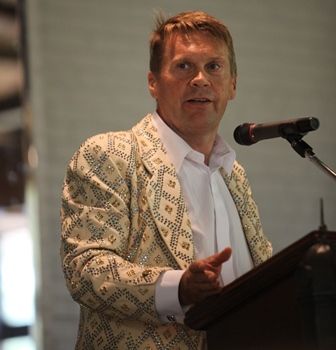 On the dais, they made quite a contrasting pair, Mark Childress flamboyant in his yellow sequined sports jacket, Wayne Flynt distinguished in his black business suit. They do hold in common, though, a keen intellect and a sharp wit. The two men had come to the 17th annual Alabama Writers Symposium in Monroeville on April 25 to receive the state's highest literary and scholarly honors, Childress for the Harper Lee Award for Alabama's Distinguished Writer of the Year and Flynt for the Eugene Current-Garcia Award for Alabama's Distinguished Scholar of the Year.
"Oscar Wilde once said, 'I find it harder and harder every day to live up to my blue China,'" said Childress. "So when I spied this jacket in a North Miami thrift store, I made a vow to try to live up to this jacket. One time when I saw Eudora Welty at a party in Jackson, she was wearing this very strange and flashy floor-length dress that had little mirrors macraméd all over it. I complimented Miss Welty on the dress and she said, 'I so want people to see something of themselves when they look at me.' So, basically, I got this jacket so that when you get up next to me you'll see how much you sparkle."
Childress paid tribute to Eudora Welty, Flannery O'Connor, and especially Harper Lee, to whom, he said, every Southern writer working today owes a debt.
"[Harper Lee's] example is enough for a whole lifetime of writing from a whole lot more writers than me," said Childress, concluding. "She really started something, and I'm happy, proud, and honored to be a part of what she started."
That afternoon, Childress participated in a panel discussion of Lee's To Kill a Mockingbird. The panel also included moderator Alec Harvey of Al.com, author Robert Inman, and poet and Alabama Writers' Forum Executive Director Jeanie Thompson. During this closing discussion of the first session of Al.com's Red Clay Readers Book Club, the panel discussed Lee's novel in the context of the continuing civil rights movement in the South.
On Saturday morning at a session held in the Old Monroe County Courthouse, Childress humorously riffed on his writing career. He said that his next project is writing the libretto to a Huntsville Opera Theater production based on his novel Georgia Bottoms.
Childress is the author of seven novels: A World Made of Fire (Knopf, 1984), V For Victor (Knopf, 1988), Tender (Harmony, 1990), Crazy in Alabama (Putnam, 1993), Gone for Good (Knopf, 1998), One Mississippi (Little Brown, 2006), and Georgia Bottoms (Little, Brown & Co., 2011). His articles and reviews have appeared in The New York Times, Los Angeles Times, The Times of London, San Francisco Chronicle, Saturday Review, Chicago Tribune, Philadelphia Inquirer, Travel and Leisure, and other national and international publications.
After graduation from the University of Alabama in 1978, Childress worked as a reporter for The Birmingham News, Features Editor of Southern Living magazine, and Regional Editor of The Atlanta Journal and Constitution. He has been writing fiction full-time since 1987.
Tender, a Literary Guild and Doubleday Book Club selection, was named to several Ten Best of 1990 lists and appeared on many national bestseller lists. Crazy in Alabama, a featured selection of the Literary Guild, has been published in eleven languages and appeared on many bestseller lists and Ten Best of 1993 lists. Crazy was named The (London) Spectator's Book of the Year for 1993 and a New York Times Notable Book of the Year, and it was on the Spiegel bestseller list in Germany for ten months.
One Mississippi was a BookSense Notable Book of the Year, nominated for SIBA Book of the Year, and appeared on the Hot Summer Book lists of Good Morning America, People, Entertainment Weekly, the Los Angeles Times, Wall Street Journal, O: the Oprah Magazine, and the New York Public Library. The paperback edition is now in its seventh printing.
Childress has received the Thomas Wolfe Award, the University of Alabama's Distinguished Alumni Award, and the Alabama Library Association's Writer of the Year. He is a staff member and a director of the Community of Writers at Squaw Valley, California.
Childress has written three picture books for children: Joshua and Bigtooth in 1992, Joshua and the Big Bad Blue Crabs in 1996 (both from Little, Brown), and Henry Bobbity Is Missing And It Is All Billy Bobbity's Fault (Crane Hill Publishers, 1996).
He wrote the screenplay for the Columbia Pictures film Crazy in Alabama, directed by Antonio Banderas and starring Melanie Griffith, an official selection of the Venice and San Sebastian film festivals in 1999.
Introducing Wayne Flynt, Gloria Horton, president of the Association of College English Teachers of Alabama (ACETA), said, "Wayne Flynt is quite a literary figure," citing Bert Hitchcock, Auburn University Professor of English emeritus, who wrote in his letter of nomination that all one had to do to convince him/herself that Flynt is an excellent scholar-writer is to read his entry on To Kill a Mockingbird in the Encyclopedia of Alabama. "[Wayne] told us at the table today that he's a fake," said Horton. "That he's been fooling people for years. I don't think so. Harper Lee called Dr. Flynt one of our best writers."
"Just to prove what an absolute scam I am in this state, Bert Hitchcock attributes the Mockingbird article in the Encyclopedia of Alabama to me," said Flynt in his acceptance speech. "Nancy Anderson wrote that entry. Actually, I'm a novelist masquerading as an historian."
Concluding, Flynt told of an exercise he used to assign his history classes. In this assignment, students had to read, research, and comment orally on a literary novel. Most of his students balked.
"At the end of my career at Auburn when I retired, I received a letter," said Flynt. This particular letter was from a history major who had really really been angry at this project. He wrote this letter that said, 'Because I knew who William Falkner was and I hadn't read anything by him, I decided to read The Sound and the Fury. I just wanted you to know that ever since I graduated Auburn I've read one William Falkner novel a year. If it hadn't been for that project, I would have never read the one person who perhaps more than any other historian or writer defines what it means to be Southern.' So I thought, You know, maybe I do deserve this award after all."
Of Flynt's twelve books (three co-authored), two deal with Florida politics, two with evangelical religion, three with poverty, and three are broad surveys of Alabama history, including his two most acclaimed, Poor But Proud: Alabama's Poor Whites and Alabama in the Twentieth Century (University of Alabama Press, 1989). His most recent book is a memoir titled Keeping the Faith: Ordinary People, Extraordinary Lives (UA Press, 2011). Two of his books have been nominated for the Pulitzer Prize, and one won the Lillian Smith Award for non-fiction, given by the Southern Regional Council. Two of his books have won the Alabama Library Association Prize for best works of non-fiction, three times he has won the James Sulzby Book Award for best work on Alabama history, awarded by the Alabama Historical Association, and three times the University of Alabama Press has bestowed the McMillan prize on his manuscripts as the best received in history.
During his forty year teaching career at Samford and Auburn Universities, Flynt won eighteen teaching awards, including top teaching honors at Samford and in the College of Liberal Arts and among the graduate faculty at Auburn. Three times history graduate students at Auburn named him best professor. In 1971 he was a finalist in the Danforth Foundation's competition for the top twelve professors in an American college or university. In 1991 he was chosen Professor of the Year for Alabama by the Council for Advancement and Support of Education. During his career he taught more than 6,000 undergraduates and directed forty-two master's theses and twenty-six doctoral dissertations.
Every spring Alabama's literary community gathers in Monroeville to celebrate the state's rich literary heritage at the Alabama Writers Symposium, a project of the Alabama Center for the Literary Arts. Some of Alabama's most celebrated writers and scholars lead discussion sessions, readings, and workshops on themes ranging from Literary Gumbo to Murder, Mystery and Mayhem, and everything in between. This year's theme was Saints & Sinners.
In 1997, the Alabama legislature designated Monroeville and Monroe County as the Literary Capital of Alabama in recognition of the region's remarkable literary heritage, making Monroeville the perfect setting for the annual celebration of Alabama writers. Among the writers who at one time or another have called Monroeville and Monroe County home are Truman Capote, Harper Lee, Mark Childress, Rheta Grimsley Johnson, Philip Shirley, and Cynthia Tucker.
The Alabama Writers' Forum, a statewide literary arts organization and partnership program of the Alabama State Council on the Arts, coordinates the process to select the Harper Lee Award recipient annually from nominations from the field. The award is presented to a living, nationally recognized Alabama writer who has made a significant, lifelong contribution to Alabama letters. Recent recipients include Gay Talese, Fannie Flagg, and Winston Groom.
The Eugene Current-Garcia Award reflects the respect of the scholar's peers in the academic community. Annual selection of the award recipient is the task of ACETA, a diverse organization representing faculty at all of Alabama's two-year, four-year, and doctoral institutions.
This honor recognizes and rewards Alabamians who have distinguished themselves as men or women of letters, specifically in scholarly reflection and writing on literary topics. Recent recipients of the award include Sue Brannan Walker, William Ulmer, and David Sauer.
The award is named for the late Dr. Eugene Current-Garcia, whose distinguished academic career spanned five decades, mostly at Auburn University.
Presented annually at the Alabama Writers Symposium on the Alabama Southern Community College campus, both awards include a Frank Fleming bronze of the Old Monroe County Courthouse, a setting for Harper Lee's novel, To Kill a Mockingbird, and a $5000 honorarium. The awards are sponsored by George F. Landegger, Chairman, Parsons and Whittemore.
The Alabama Writers Symposium is a project of the Alabama Center for Literary Arts and is sponsored by Alabama Southern Community College. The event is produced in cooperation with the Alabama Writers' Forum, Association of College English Teachers of Alabama, Alabama Center for the Book, Monroe County Heritage Museum, and Monroeville/Monroe County Area Chamber of Commerce. The Alabama Writers Symposium is also supported by the Alabama Humanities Foundation and the Alabama State Council on the Arts.
(photo of Mark Childress courtesy of the Alabama Center for the Literary Arts )