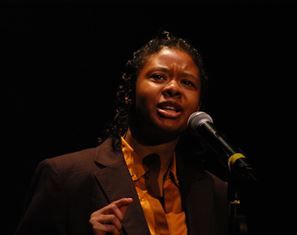 On Monday, February 17, 2014, students from high schools from all around the State of Alabama will travel to Montgomery to compete in the state finals of the Poetry Out Loud competition at the Alabama Shakespeare Festival. The program begins at 9 a.m. with the Original Poetry Competition and is free and open to the public.
Competing students will give moving renditions of poetry from well-known poets such as Langston Hughes, Dudley Randall, and Edgar Allen Poe. The students will also perform their original poems with themes such as friendship, truth, personal identity, and tragic life experiences. It will be a day filled with laughter, thoughtfulness, and tears, and it will prove to all that Alabama students have the power to speak with voices very much worth hearing.
Poetry Out Loud is a part of a national program that encourages high schools students to learn about great poetry through memorization, performance, and competition. Alabama is unique in that we are one of only two states that include an original poetry competition.
The competition is a national arts education program presented by the National Endowment for the Arts and the Poetry Foundation in partnership with state arts councils nationwide. It encourages the mastery of great poetry by offering to high schools across the country educational materials and a dynamic competition. Poetry Out Loud uses a pyramid structure. Beginning at the classroom level, winners advance to a school-wide competition, regional competitions, the state competition, and ultimately to the National Finals in Washington, D.C.
In Alabama Poetry Out Loud is a program of the Alabama State Council on the Arts, in partnership with the Alabama Alliance for Arts Education. The Alabama Writers' Forum provides monetary awards for the Original Poetry winners.
For additional information and a list of the regions participating, contact Donna Russell, Executive Director, Alabama Alliance for Arts Education, at 334-269-1435, 334-391-1334. or aaae@bellsouth.net.
(Photo: 2013 Alabama POL winner Sabria White by Julian)