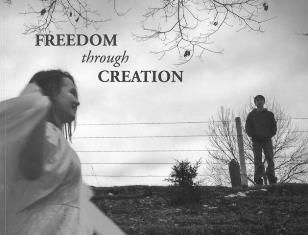 Creative writing students from the Department of Youth Services Mt. Meigs Campus recently collaborated with undergraduate photography students at The Illinois Institute of Art-Chicago (AI-Chicago) to produce a poetry and photography exhibit titled Freedom though Creation.
Twenty-eight large format photographs set with corresponding poems are on view through January 2014 at the Old Supreme Court Library in the Alabama State Capitol in Montgomery.
The project was made possible by Marlin Barton, teaching writer in the Writing Our Stories program at the DYS Mt. Meigs Campus, in collaboration with Professor Jennifer Moore of AI-Chicago. Moore and Barton were introduced by C.D. Mitchell, a writer who had visited both programs and thought the two teachers might find something in common through their students' visual art and creative writing.
"This project gave my students at Mt. Meigs a chance to get outside of themselves, to write, one might say, from the outside in," said Barton, who has taught in the Writing Our Stories program since 1997. "Working from both black and white and color images, many students wrote some of their very best poems, incorporating writing skills they'd already learned: metaphor, simile, personification.
"But what most struck me was my students' ability to connect with and feel empathy for the human figures depicted in the photos and their suggested situations."
Poems from this project are also included in Open the Door 16, the annual anthology from Writing Our Stories on the DYS Mt. Meigs Campus.
According to Moore, Freedom through Creation began as an idea to help inspire her undergraduate art students to create better, more meaningful photographs.
"I was interested in helping them explore the idea of collaboration through different mediums," said Moore, who advises the Student Photography Society of AI-Chicago. "It has always been my belief that inspiration for visual artists isn't always visual—inspiration can come from many things: fiction, music, and poetry to name a few."
After agreeing to the collaboration, Barton and Moore exchanged their students' work.
"Marlin sent me poems, and I sent him my students' images," Moore said. "The results of the blind collaboration were amazing. My students seemed to internalize the poems, and created emotionally compelling images in response to them. Mr. Barton's students created poems that were heartfelt, creative, and warm.
"Although our students were separated by a thousand miles and a world of cultural differences, Mr. Barton's students' experiences resonated with my students. The result of this collaboration is a moving collec¬tion of poetry and imagery."
Moore and her students designed and published a book, also titled Freedom through Creation, which includes all of the work from the project.
"Writing Our Stories currently takes creative writing into the classrooms of two DYS campuses," said Jeanie Thompson, Alabama Writers' Forum executive director. "Since 1997 we have taught creative writing to Alabama youth in the care of the Alabama Department of Youth Services. Being able to bring another art discipline into the mix is always exciting for our teachers and the students. Collaborating with students from another state widens the experiences of these young writers who are finding a positive voice for their wishes, hopes, and dreams through Writing Our Stories."
The Alabama State Capitol is open to the public Monday-Saturday, 9 a.m.-4 p.m., with tours available.
To learn more about the Writing Our Stories program and its publications, contact The Alabama Writers' Forum in Montgomery at 334-265-7728 or writersforum@bellsouth.net.
Freedom through Creation is made possible with funding from the Alabama Department of Youth Services, the Alabama State Council on the Arts, the Student Photography Society of AI-Chicago, and the Alabama Writers' Forum.