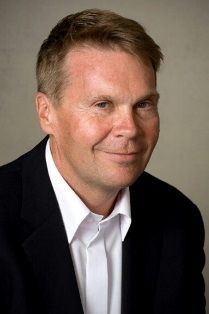 Monroeville native Mark Childress has been named the recipient of the 2014 Harper Lee Award for Alabama's Distinguished Writer of the Year. He will receive the award in his hometown during the Awards Luncheon at The Alabama Writers Symposium on April 25, 2014.
"Mark Childress's career is both an inspiration for writers and a delight for readers," said Alabama Writers' Forum President Kirk Curnutt.
The Alabama Writers' Forum, a statewide literary arts organization and partnership program of the Alabama State Council on the Arts, coordinates the process to select the Harper Lee Award recipient annually from nominations from the field. The award is presented to a living, nationally recognized Alabama writer who has made a significant, lifelong contribution to Alabama letters. The award includes a Frank Fleming bronze of the Old Monroe County Courthouse, a setting for Harper Lee's novel, To Kill a Mockingbird, and a $5000 honorarium. Recent recipients include Gay Talese, Fannie Flagg, and Winston Groom.
"As we mark the 30th anniversary in 2014 of Childress' debut novel, A World Made of Fire, we want to celebrate the diversity of Mark's work," said Curnutt. "From the rich Gothic experimentation of Fire to the knee-slapping absurdities of Crazy in Alabama to the winsome nostalgia of One Mississippi and most recently the sharp satire of Georgia Bottoms, he has demonstrated a breadth that defies the labels of regionalist and humorist often placed upon him. The true sign of talent is the ability to do different things well while also conveying an overarching, cohesive personal vision, and I can truly sense those seemingly contradictory abilities throughout his three decades of publishing. Mark's a true pro, and that's why he's this year's recipient of the Harper Lee Award."
Upon learning of the award, Childress said, "I am overwhelmed. I am basically the kind of writer who doesn't win awards, and I am really grateful. Harper Lee is my hero, and I am so happy to accept this award."
AWF Executive Director Jeanie Thompson noted Childress's connection to the University of Alabama creative writing program in the mid to late 1970s. "Mark Childress and his brilliant young contemporaries in Mallet Hall formed a second generation of the newly formed UA Creative Writing Program," she said. "Although Mark was a journalist working with the Crimson-White, as well as an obviously gifted fiction writer, I always considered him one of my younger siblings in the literary family. The writing program was smaller then, and we all hung out together, enjoying the wealth of writers who were brought to campus to read for us.
"Mark continues to make his name in the world as an Alabama writer—for adults, for children, and for movie-goers. Once again, it is heartwarming to see an Alabamian recognized with this most beloved award. On behalf of the Alabama Writers' Forum, congratulations Mark Childress!"
Childress was born in 1957 in Monroeville, Alabama, and grew up in Ohio, Indiana, Mississippi, Louisiana, and Alabama.
Childress is the author of seven novels: A World Made of Fire (Knopf, 1984), V For Victor (Knopf, 1988), Tender (Harmony, 1990), Crazy in Alabama (Putnam, 1993), Gone for Good (Knopf, 1998), One Mississippi (Little Brown, 2006), and Georgia Bottoms (Little, Brown & Co., 2011). His articles and reviews have appeared in The New York Times, Los Angeles Times, The Times of London, San Francisco Chronicle, Saturday Review, Chicago Tribune, Philadelphia Inquirer, Travel and Leisure, and other national and international publications.
After graduation from the University of Alabama in 1978, Childress was a reporter for The Birmingham News, Features Editor of Southern Living magazine, and Regional Editor of The Atlanta Journal and Constitution. He has been writing fiction full-time since 1987.
Tender, a Literary Guild and Doubleday Book Club selection, was named to several Ten Best of 1990 lists and appeared on many national bestseller lists. Crazy in Alabama, a featured selection of the Literary Guild, has been published in eleven languages and appeared on many bestseller lists and Ten Best of 1993 lists. Crazy was named The (London) Spectator's Book of the Year for 1993 and a New York Times Notable Book of the Year, and it was on the Spiegel bestseller list in Germany for ten months.
One Mississippi was a BookSense Notable Book of the Year, nominated for SIBA Book of the Year, and it appeared on the hot summer book lists of Good Morning America, People, Entertainment Weekly, the Los Angeles Times, Wall Street Journal, O: the Oprah Magazine, and the New York Public Library. The paperback edition is now in its seventh printing.
Childress has received the Thomas Wolfe Award, the University of Alabama's Distinguished Alumni Award, and the Alabama Library Association's Writer of the Year. He is a staff member and a director of the Community of Writers at Squaw Valley, California.
Childress has written three picture books for children: Joshua and Bigtooth in 1992, Joshua and the Big Bad Blue Crabs in 1996 (both from Little, Brown), and Henry Bobbity Is Missing And It Is All Billy Bobbity's Fault (Crane Hill Publishers, 1996).
He wrote the screenplay of the Columbia Pictures film Crazy in Alabama, directed by Antonio Banderas and starring Melanie Griffith, an official selection of the Venice and San Sebastian film festivals in 1999.
Childress is now working on a new novel and a film project. He lives in Key West, Florida.
(Photo by Richard Dutkowski)