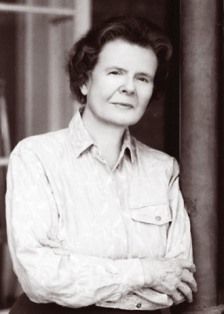 "We are sad to learn that Alabama has lost another luminary," AWF Executive Director Jeanie Thompson posted on Facebook after learning of the death of Helen Norris Bell. "I deeply treasure the time I spent with Helen—one of the brightest minds I've encountered in Alabama letters."
"Mrs. Bell" to her students, "Helen Norris" to her readers, Norris passed away on November 18 in Black Mountain, North Carolina. She was 97.
The third recipient of the Harper Lee Award for Alabama's Distinguished Writer of the Year (2000), Norris also received the PEN Women's Short Fiction Award, four O. Henry Awards, a Pushcart Prize, two Andrew Lytle Awards, and a Hackney Short Story Award. She received her A.B. in 1938 from the University of Alabama, where she studied with Hudson Strode, who offered her a graduate assistantship with the provision that she complete a novel before graduation. She published that novel, Something More Than Earth, with Atlantic/Little, Brown in 1940. Her other novels include For the Glory of God (McMillan, 1958), More Than Seven Watchmen (Zondervan, 1985), and A Walk with the Sickle Moon (Birch Lane Press, 1985).
Norris was better known, however, as a master storyteller in a shorter form. In an interview with Jay Lamar in the Fall 1999 issue of First Draft, she spoke of her use of lyrical devices in the development of her short stories.
"…you can get so much more said when you use rhythm, symbols, echo, prefiguration, images," she told Lamar. "I am always wanting to get more in my stories. I want the focus of the short story and at the same time I crave the depth of the novel. By using poetic devices I can get both things…. Short stories are more difficult to write than novels."
Norris' short fiction collections include The Christmas Wife (University of Illinois Press, 1985), Water Into Wine (University of Illinois Press, 1988), The Burning Glass (Louisiana State University Press, 1992), and One Day in the Life of a Born-Again Loser and Other Stories (University of Alabama Press, 2000).
Though best known for her prose, Norris also published two volumes of poetry—Whatever Is Round (Curbow Publications, 1994) and Rain Pulse (Timberline Press, 1997). "I am just a beginner, not a poet of any stature…. I didn't really write poetry until I began teaching creative writing at Huntingdon College in Montgomery."
Despite her humility, Morris was commissioned by Gov. Don Siegelman as Alabama's sixth poet laureate in the fall of 1999. "Being poet laureate gives me an opportunity and a good excuse to read poetry and to think about poetry for the next four years…," she told Lamar. "If I'm poet laureate some people are bound to listen to me. Whereas maybe—or I'm sure—without it no one would."
Speaking with Montgomery fiction writer Julia Oliver for a feature published in the Winter 2000 issue of First Draft, Norris' predecessor, Helen Blackshear, said, "[Helen possesses] a literary style that flows like music."
Norris shared her view of poetry with Lamar: "A poem is like three interlocking circles: one circle is the physical world, the things you're dealing with in the poem; another circle is the world of the mind. The third circle, you have no idea what it is. Poetry deals with all three of these worlds, but that third world that you cannot define is what makes poetry lovers love poetry and people who don't like poetry hate it."
Literature aside, Norris also mastered a second medium, film, insofar as her short stories "The Christmas Wife" and "The Cracker Man" inspired TV movies, the former by HBO in 1988 and the latter by PBS in 1999. Thompson accompanied Norris to a The Cracker Man location set outside of Auburn for a First Draft story published in the Summer 1998 issue.
Norris, Thompson writes, takes all the Hollywood to-do in stride as she recounts a story relating to The Christmas Wife, nominated for an ACE Award. One of the film's stars, Julie Harris, phoned Norris to say that "she planned to mention 'the writer' at the ACE Ceremony."
"I was sick with the flu," Norris said with a chuckle, "but I stayed up to watch the awards. And when Julie Harris got up to speak she said, 'I want to thank the author, Mary Norris, for writing the story."
This self-deprecating humor runs throughout interviews with and anecdotes about Helen Norris. As Blackshear shared with Oliver at the poet laureate commissioning ceremony, "She is a very funny and lovable person."
Upon learning of her death, several of Alabama's other literati shared their memories of Helen Norris:
Helen Norris' passing marks the end of a literary era in Alabama. She was one of the first Alabama writers I got to know when I first started working with the literary arts some twenty years ago through the Alabama Writers' Forum. Her wit; her knowledge of poetry, fiction, and the classics; and her gentle manner were a magic combination that made her a joy to count as a friend. Any conversation with Helen would last the better part of an hour, so if you called her you knew to be prepared. She always had so many interesting things to say!
One of my favorite memories of Helen is taking her to visit the set of the The Cracker Man, the film that Alerion Film producers Bruce Kertain and John DeJulio adapted from her classic Southern short story of the same name. We drove up Wire Road in Auburn to the house where the film was in production that day. On the way Helen had protested mightily that film-makers are never interested in the writer and she didn't expect this to be any different. However, from the moment we arrived, she was treated like a queen, with the lead actress and one of the lead actors coming off set to greet her and thank her for writing the story. Back inside the house where the scene was being shot Helen was installed in a director's chair, given headphones, and invited to watch in the small viewing screen that the director was using. Later we photographed the whole crew around Helen, seated in a tree swing, grinning from ear to ear. That's how I will remember her—alive in her story, surrounded by adoring actors who recognized her genius—the genius they were bringing to life in film.
— Jeanie Thompson, poet & AWF executive director
When I began writing short stories, Helen read some of them and was very helpful about that craft. She really was the only "mentor" I've had as a writer, other than teachers of classes in creative writing I took at two colleges.
—Julia Oliver, author, critic
At Huntingdon I took both sections of British Lit and both Shakespeare's comedies and tragedies with Mrs. Bell, and though I knew she was a great teacher, I didn't realize till much later how great she really was. She loved literature and she openly shared both her delight and her occasional perplexity with us in a way that made the greatness of great literature real. And yet she always had a wonderfully sly sense of humor, so sly that sometimes it took me months of pondering to begin to appreciate the largeness of her vision—which is another way of saying she was very self-deprecatingly funny in a very useful way.
I wish I could remember specific stories, but what I really remember is her intelligence, her humor, and her kindness to the raw and unaccomplished boy I was then, someone who had absolutely no claim to the attention of a teacher as gifted and smart as Mrs. Bell.
—Andrew Hudgins, Harper Lee Award recipient
The word master sometimes gets used rather cavalierly, but I feel quite confident in saying that Helen Norris was an absolute master of the short story. The stories themselves certainly attest to this status, but I once heard her at a literary symposium brilliantly demonstrate the process of writing a story, asking the audience to supply her with two characters and a situation that she could use for her address. Swapping back and forth between straight narrative and dramatic scene (the accordion method, she called it), she showed the audience how to construct a story while at the same time entertaining them with her inimitable wit. I must have heard her speak or read a dozen times, and each time I left weak from laughing, but also greatly instructed. Her loss to the literary community in Alabama is great.
—Norman McMillan, memoirist, playwright, & educator
The world has lost an original, brilliant writer and person. As Andrew Hudgins writes, she was sly and hilarious. And as Jeanie Thompson [intimates], she was richly deserving of every award and recognition. There is no one else like her, and we are poorer for her passing, but what an honor and pleasure to have known her.
I remember vividly a two-hour phone conversation with Helen about aromatherapy, Rekki (and the drop-dead handsome Hawaiian man who practiced it on her), faith, calcium supplements, writing, and books. Until we met in person, we corresponded for years, and, unbeknownst to me, she thought I was a man. When we met, she gave me this arch look and said I made a better female than male. I think that was a compliment! She was like no other!
— Jay Lamar, editor& director of special projects, Office of the Associate Provost for Undergraduate Studies, Auburn University (writing in part in the Montgomery Advertiser Obituary Guest Book)
Read more tributes in the Montgomery Advertiser Obituary Guest Book.
Photo of Helen Norris by Robertson Photography