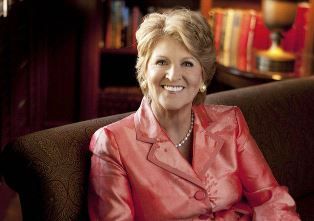 Editor's Note: This article by Bob Carlton first appeared on al.com on Oct. 31, 2013, at 10:00 a.m. © 2013 al.com.
BIRMINGHAM, Alabama – Appropriately, the idea for Birmingham native Fannie Flagg's latest book, The All-Girl Filling Station's Last Reunion, goes back to her family's Irondale Café, the iconic meat-and-three that was the inspiration for Flagg's breakout novel Fried Green Tomatoes at the Whistle Stop Café.
Several years ago, as Flagg tells the story, a group of women who had been Women Airforce Service Pilots (WASP) during World War II were having lunch at the café, and Flagg just happened to call then-owner Mary Jo McMichael that day to chat.
"She said, 'Oh, Fannie, we've got the cutest group of ladies in here today. They were women who flew during the Second World War,'" Flagg recalls. "I said, 'Tell them hello for me and let me pick up their lunch.'"
FANNIE FLAGG IN ALABAMA
Tuesday, Nov. 5: Luncheon sponsored by Alabama Media Group and Page & Palette at the Arthur R. Outlaw Convention Center, 1 South Water St., Mobile. Noon. Tickets: $35, available at www.pageandpalette.com.
Wednesday, Nov. 6: Luncheon and book signing at Chatom Community Center, 233 Dixie Youth Drive, Chatom. 11:30 a.m.
Friday, Nov. 8: Book signing at Sam's Club, 1080 Eastern Blvd., Montgomery. Noon.
Sunday, Nov. 10: Book signing at Books-A-Million, 1001-7 North Memorial Parkway, Huntsville. 2 p.m.
Tuesday, Nov. 12: Book signing at Books-A-Million, 757 Colonial Brookwood Village, Homewood. 7 p.m.
Monday, Nov. 18: "An Evening with Fannie Flagg," Virginia Samford Theatre, 1116 26th St. South, Birmingham. 6 p.m. Tickets: $39, available at www.alabamabooksmith.com.
A year or so later, Flagg received a copy of a book, Alabama's First Lady of Flight, about one of those women, pioneering aviator Nancy Batson Crews, along with a note from the book's author, Sarah Byrn Rickman.
"She said one of the last things Nancy Batson Crews said to her before she passed away was make sure a copy of this book gets in Fannie Flagg's hands," Flagg continues the story. "Well, my hair stood up on my head. I thought, 'They really wanted me to write about that.' Of course, I was thrilled."
Flagg, who now lives in California, will be back in Alabama for the next couple of weeks to sign copies of The All-Girl Filling Station's Last Reunion at several events throughout the state, including an appearance in her hometown of Birmingham at the Books-A-Million store in Colonial Brookwood Village on Nov. 12 and a benefit at Virginia Samford Theatre on Nov. 18. Her Alabama tour begins Tuesday, Nov. 5, with a luncheon in Mobile sponsored by Alabama Media Group and the Page & Palette bookstore.
"I'm like a horse out of the barn," Flagg says in a phone call from the West Coast. "I can't wait to get down there to see people."
Like many of Flagg's previous books, the new one is set in Alabama—in this case, Point Clear—but it covers a lot of ground and goes back several decades after its heroine, the good-hearted but put-upon Sookie Poole, discovers some unsettling news about her past and embarks on a soul-searching journey to find some answers.
Sookie's search leads her to Pulaski, Wis., where she learns the story of Fritzi Jurdabralinksi, one of four Polish-American sisters who helped run their father's Phillips 66 gas station back in the 1930s and '40s and who later became a WASP "fly girl" during World War II.
Inspired by Fritzi's story, Sookie learns to soar in her own way, and she comes to terms with her relationship with her 88-year-old mother, the overbearing and exasperating Lenore Simmons Krackenberry.
[BOOK REVIEW: 'Another fun Southern romp']
"These gals were so brave during the second World War," Flagg says of the 1,000 or so female pilots who were the first women to fly American military planes. "They didn't get much attention, and a lot of people, even today when I talk about them, people go, 'Oh, I didn't know that.' They didn't get publicity at the time because the government didn't really want people to know they were doing it."
As for Sookie and Lenore, fans of Flagg's books will remember them from as far back as her 1998 novel, Welcome to the World, Baby Girl!
"They were introduced in that book," Flagg says. "They are featured much more in this one."
Sookie Poole is named for an old friend of Flagg's, and Lenora Krackenberry is loosely based on her grandmother, Leona Fortenberry, the older sister of Flagg's great aunt Bess Fortenberry, who ran the Irondale Café for decades.
"We've all seen that particular kind of woman, the woman who is always the president of the garden club and who is in charge of everything," Flagg says.
"I can remember—and I think a lot of Southern girls have heard this—when I was growing up, I would say, 'Oh, Grandmother is so wonderful. . . .' And my mother would look at me and say, 'Yes, but just be glad she is your grandmother and not your mother.'
"My mother was a little shy and my grandmother was of that era where she was a very pretty girl. She grew up sort of spoiled and went to Judson College and because she was so pretty, she married this very, very wealthy man and was spoiled all of her life. So my mother was sort of intimidated by her."
Like Sookie and Lenora, many of the other characters in all of Flagg's books are inspired by her friends and family members, but she says she is always careful to take "a combination of many people that I've met and mash them into one" to avoid getting into trouble.
"Basically, I never write about one person in particular," she says. "That gets on dangerous ground. I don't want to hurt anybody's feelings or anything. So I just make it up, most of it."
[RELATED: Fannie Flagg's love letter to Birmingham and Alabama]
Flagg, who grew up as Patricia Neal in Birmingham, graduated from Ramsay High School and got her start onstage here at the former Town and Gown Theatre (now the Virginia Samford Theatre) and on television with Tom York on the old Morning Show on WBRC/Channel 6.
After moving to New York City to become an actress and changing her name to Fannie Flagg, she appeared with Jack Nicholson in "Five Easy Pieces" in 1970 and became a regular on such '70s TV shows as Candid Camera, The New Dick Van Dyke Show and Match Game.
But it has been as a writer, not an actress or TV personality, that Flagg found her calling.
She published her first novel, Coming Attractions (later rereleased as Daisy Fay and the Miracle Man) in 1981 and hit the jackpot her second time around with Fried Green Tomatoes at the Whistle Stop Café, which came out in 1987 and was adapted into an Academy Award-nominated movie (for which she co-wrote the screenplay) four years later.
Flagg has subsequently written six more novels—Welcome to the World, Baby Girl!, Standing in the Rainbow, A Redbird Christmas, Can't Wait to Get to Heaven, I Still Dream About You', and now The All-Girl Filling Station's Last Reunion.
From Alabama to Poland
Although she used to keep a condo in Birmingham and another in Baldwin County, Flagg says she gets home so infrequently these days that she has sold both places.
"You know, I haven't had the time to get back as much as I like because I've been stuck in a room writing this book," she says. "But I'm really looking forward to coming back to Birmingham because I've got to see all of my pals and my theater friends. I'm hoping someone I went to school with will come to the book signing because I never get to see anybody.
"I'm also so looking forward to getting some real barbecue and some real biscuits," she adds. "You should see what they call biscuits out here. You could knock somebody out if you hit them in the head with one."
After Alabama, The All-Girl Filling Station's Last Reunion book tour might eventually take Flagg to, of all places, Poland, where her books have developed a big following.
"I don't know why, but in Poland, they love my books. . . . So Poland somehow really relates to Alabama, which I think is so cool."
She made the character of the female aviator Polish-American partly in tribute to her readers there. A book tour is in the works for next spring.
"It's so funny, honey," she says. "I don't know why, but in Poland, they love my books. And every year, they have a national radio show and they read A Redbird Christmas. So Poland somehow really relates to Alabama, which I think is so cool."
(Photo of Fannie Flagg by Andrew Southam)