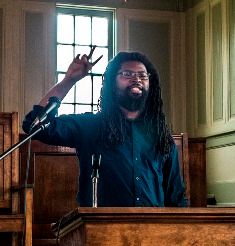 Ten McNeel School Writing Our Stories student writers read their work or the work of others at the release ceremony for Behind the Gate, an anthology of poems and stories, at the Department of Youth Services (DYS) Vacca Campus Chapel on October 31, 2013. Two of the ten students returned to campus to celebrate with their fellow writers, family members, guests, administrators, faculty, staff, and state dignitaries.
Addressing the student writers, Forum Executive Director Jeanie Thompson said, "This book is the culmination of nine months of hard work, and by your learning about writing and publishing this anthology, you—and we—are a part of a quiet revolution to keep creative writing in the classroom. The Alabama Writers' Forum—and its partner the Alabama State Council on the Arts—is happy to have this relationship with DYS."
Thompson then introduced keynote speaker Brian Hawkins, a community activist, engineer, poet, and Birmingham native.
Hawkins began with a spoken word piece, "Traveling." "That poem," he said, "illustrates for me the process I took from being a kid who grew up in Gate City to being the man I am now helping others."
The many helping hats Hawkins wears include chair of the Norwood Learning Gardens Steering Committee, an initiative designed to take blighted lots in the neighborhood and turn them into outdoor classroom gardens; Vendor Coordinator of the Norwood Market at the Trolley Stop, a convenient place to buy fresh fruits and vegetables and other wares; one of four Master Gardeners in the Junior Master Gardener Summer Program, which uses a 4-H curriculum that includes topics such as garden science, nutrition and health, and Literature in Garden—a garden themed series of children's books—and teaches elementary school children the process of growing, maintaining, harvesting, and preparing food; Creative Director of Bards & Brews, a poetry slam and beer tasting held in the Birmingham Public Library; and Creative Director of On Stage at the Carver, a poet-driven open mic. Gate City is an economically depressed neighborhood in northeast Birmingham. Norwood, just north of downtown Birmingham, is a neighborhood on the rise.
Hawkins said that he began his aesthetic interest as a painter. "I was a visual artist," he said, "and I was good at it. Then I discovered writing. I learned that I could say more with the pen than with the paint brush. When you write, write so that people can see what you're thinking, not so much the words, but the vision behind the words."
With a nod to the newly published writers and those presently enrolled in the creative writing class, he said, "I'd like to welcome you to the fraternity of writers. If you are able to write, you are essentially drafted into the class of royalty. In the past, only people of high station could get an education and learn to read and write. You guys are going to have to think of yourselves as royalty.
"Had it not been for the arts—for painting and writing—I wouldn't be standing here today. I hope the arts change your lives."
Teaching writer and Behind the Gate editor Tony Crunk—now in his fifth year of teaching creative writing at McNeel School—introduced the readers with a paragraph from his Editor's Introduction, which reads in part, "As always, the writers represented here have each gained significant personal achievements creatively, intellectually, academically. But one of the most important aspects of their growth has been the respect and enthusiasm with which they have invested themselves in each other's work and accomplishments."
After the reading, the student writers and their guests assemble in the school's media center for a reception and autograph session.
Writing Our Stories is an award-winning creative writing collaborative program whose partners include the Alabama Department of Youth Services, the ABSOP project, and the Alabama Writers' Forum. Additional funding has been provided by the Alabama State Council on the Arts. The Children's Trust Fund provided funds for the WOS Curriculum Guide. The Auburn University Montgomery Center for Government and Public Affairs supported Writing Our Stories with a special programming grant for the exhibit Speak Peace.
Copies of this year's anthologies are available from the Forum for a $5 shipping and handling charge for each book. To order, contact the Forum at 334-265-7728, toll free at 866-901-1117, or at writersforum@bellsouth.org.
Photo: Brian Hawkins addresses the newly published authors. (Philip E. Griffith)
Below are three poems from Behind the Gate:
Locked Up
This is where I stay, for just a little while,
Behind bars, wearing an orange shirt, with no kind of style.
During the day we chill in the dorm, and go to the chow hall to eat.
Later, at night, I lay down and try to sleep.
I hear people banging and yelling through their doors,
I smell the stuffy air, and I see the dirty floors.
I'll do what I have to do, just to get home.
In here everyone is a stranger to me, so I stick to myself, alone.
A.J.
The Day It All Began
The day it all began, my homeboy lost his life
At a dice game on the corner.
First I heard arguing, next I heard shooting.
Seeing his body on the ground made my body stop moving.
The night I lost Curt, I lost my brother.
After that, I started shooting and robbing everybody in sight.
From this day on, I will think about him, even though he's gone.
One love.
J.J.
Six Months
I've opened my eyes
I'm not the same.
Life locked up
Makes you change.
I used to think
Getting locked up was a game.
Until the judge said,
"You're still young son,
But please sign your name.
You got six months at Vacca.
I hope you really change.
J.P.