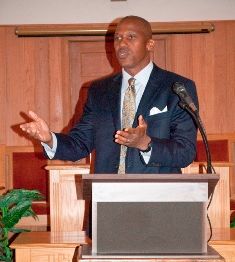 On October 24, 2013, family members, guests, and Department of Youth Services (DYS) students, administrators, faculty, and staff filled the chapel on the DYS Mt. Meigs Campus to celebrate the release of the sixteenth installment of Open the Door, an anthology series edited by teaching writer Marlin "Bart" Barton and written by his students in the Writing Our Stories (WOS) program.
"I'd like to thank the parents who brought some of our gold card members here today," said DYS Executive Director Walter Wood, referring to the parents who brought their sons back to campus to participate in the reading. In total, fourteen students read their work—or the work of others—during the book release ceremony.
"I'd especially like to talk to these guys on the first three rows," said Wood. "You are the stars today. You are published authors, and not many people can say that."
DYS Superintendent of Education Dr. Rafael Richardson introduced the day's keynote speaker, Anthony E. McCall Sr. "This is a guy who grew up in the neighborhood I grew up in," said Richardson, alluding to a less than prosperous section of Montgomery. "I always looked up to this person, who proves that it doesn't matter where you come from but where you dream to go."
A Montgomery native, McCall attended Sidney Lanier High School where he competed in both basketball and football. The latter earned him All-State honors. During McCall's senior year at Lanier High School, he became the second African-American recipient of the prestigious Jimmy Hitchcock Memorial Award, which recognizes Christian leadership in athletics. Upon graduation from high school he attended Auburn University as a scholarship athlete in football. McCall graduated in 1991 with a Bachelor of Science degree in marketing.
After graduation McCall worked in the banking industry as a loan officer and branch manager before being hired as the Director of Minority Business Outreach for the Montgomery Area Chamber of Commerce. After spending three years on the Chamber's management team, McCall joined the Montgomery Academy, becoming the first African-American to serve at the Montgomery independent school as an administrator and head coach. He currently serves as the school's Athletic Director and head football and basketball coach.
"I grew up in Ridgecrest," said McCall, receiving nods from some of the knowing student writers. "It's a tough neighborhood now, and it was a pretty tough neighborhood then. But, guys, today is about you not me. Today, I'd like to share some things I wish someone had told me at your age. These are the three Cs of a champion: 1) Character; 2) Courage; 3) Commitment.
"'Character' is who you are when no one's watching. Make sure your character reflects not just in your writing, but in everything you do.
"'Courage' is the ability to face adversity without fear. Write with courage. Make sure that what you write is true."
McCall took an interlude to tell the story of his leaving the Auburn Tigers for a year even though he held a football scholarship. "I quit football for a minute," he said. "I'm so glad Coach [Pat] Dye called me back. He put me on the right path."
Continuing, McCall said, "'Commitment' is the ability to stick with a task and follow through with it regardless of the circumstances. If I had not finished college, I don't know where I'd be now."
Punctuating the air, McCall emphasized his point, "You have these three characteristics within you: Character; courage; commitment. You are true champions. Let these three things define you as a person."
"I do see these three Cs in your work," said Barton as he took the lectern to introduce his student writers. "I see character in your work, your truths. I see your courage to take this class, and I see your commitment to stick with the class. You should be proud of this book and your work in it. I'm proud of you."
Writing Our Stories is an award-winning creative writing collaborative program whose partners include the Alabama Department of Youth Services, the ABSOP project, and the Alabama Writers' Forum. Additional funding has been provided by the Alabama State Council on the Arts. The Children's Trust Fund provided funds for the WOS Curriculum Guide.
Copies of this year's anthologies are available from the Forum for a $5 shipping and handling charge for each book. To order, contact the Forum at 334-265-7728, toll free at 866-901-1117, or at writersforum@bellsouth.org.
Photo: Anthony McCall addresses newly published authors. (Cyndi Grimes)
Below are three poems from Open the Door 16:
Happiness Is Freedom
Happiness is freedom
waiting outside the gates
of this version of hell.
Happiness is freedom,
not seeing razor-wired fences
and guards everywhere you go.
Happiness is freedom,
not having to watch your back
when you're trying to eat dinner.
Happiness is freedom,
finally being able to sleep at night
because there are no more nightmares.
Happiness is freedom,
being able to talk to your family
on the telephone.
Happiness is freedom,
being able to live with yourself
because you've forgiven yourself for
all the people you've hurt in your life.
Happiness is freedom.
J.S.
My Tee of Hate
On my tree of hate the bark drools
a thick yellow substance that drips
into the grass and devours it like acid.
The branches are abnormally shaped.
They twist and stretch into the atmosphere
like blades raised for battle.
As the branches strike each other,
the leaves shake side by side in fear.
Large birds peck holes in the tree
as dark and hollow as wide fearful eyes.
M.C.
Pizza
The sauce is like blood,
creating color in the body.
The cheese is like a book,
adding many pages of taste.
The crust is like ironwork,
providing structure and shape.
The pepperonis are like moons
that orbit within the cooked circumference.
The sausages are like shrapnel
blown from a grenade.
K.L.