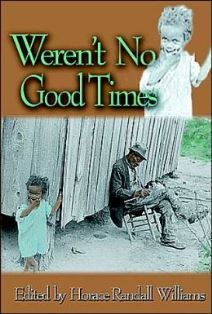 The Outreach/Education sub-committee of the Alabama Book Festival (ABF) planning committee invites high school (grades 9 – 12) students and university undergraduates to participate in the third annual Student Readers Group. This program selects one Alabama-related book per year for participants to read prior to meeting the author and discussing the book at the festival on April 19, 2014, at Montgomery's Old Alabama Town. The Student Readers Group seeks to engage high school and college students in Alabama's culture, literature, and history by encouraging the reading of books that connect to or discuss the realities of living in the state.
ABF is pleased to announce Weren't No Good Times: Personal Accounts of Slavery in Alabama, edited by Horace Randall Williams, as this year's selection. Published in 2004 by John F. Blair, Publisher, this collection of slave narratives from Alabama offers readers insights into that "peculiar institution."
Midwest Book Review gave Weren't No Good Times the following praise: "Compiled and edited by Horace Randall Williams, Weren't No Good Times is an anthology of 46 of the 125 interviews of former Alabama slaves, conducted from 1936 to 1938, presented with the express purpose of thoroughly documenting and creating a record of life during slavery in the southern state of Alabama. A powerful primary source, presenting individual voices with a loud and clear message of what slavery itself was truly like, Weren't No Good Times has the absolute highest recommendation and is a must for school and community libraries and American History and Black History reference collections and reading lists."
Participants in the Student Readers Group should be currently enrolled in a public or private high school, in an accredited home-school program that places him or her in grade 9–12, or in an accredited college or university as an undergraduate. There is no fee for participating, but students must obtain their own copies of the book. ABF also invites teachers to involve their classes in this program, and it encourages extracurricular groups, church youth groups, and individual students to participate as well. A professional development session on the program will be offered in January 2014 to teachers who respond about participation.
ABF asks that participating students, teachers, or sponsors notify it of their intention to come to the convening by contacting the program's coordinator, Foster Dickson, at foster.dickson@gmail.com. Participants should also "Like" the Alabama Book Festival Student Readers Group on Facebook to receive updates. ABF can do the best job of planning its convening and having adequate space and resources if it knows how many people will be there.
Bookstores and libraries in the Montgomery area are being notified that Weren't No Good Times was selected for the Student Readers Group, and they have been encouraged to stock the title. We ask that all student participants read the book before the Alabama Book Festival. For any questions, contact Foster Dickson at foster.dickson@gmail.com.