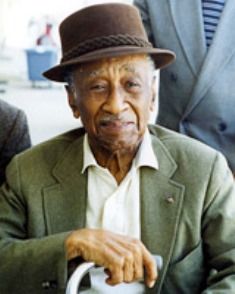 Noted writer and Nokomis, Alabama, native, Albert Murray, 97, died Sunday, August 18, 2013, at his home in New York. Recipient of the inaugural Harper Lee Award
for Alabama's Distinguished Writer of the Year in 1998, Murray earned his reputation writing about social justice, particularly in the South. An authority on the blues and jazz, Murray often incorporates the cadence of the music into his writing.
"The passing of Albert Murray, a native son of Alabama, marks the end of a life that produced an abundance of written and oral perspective regarding the cultural landscape of America that will become increasingly significant over time," said Al Head, executive director of the Alabama State Council on the Arts (ASCA). "Murray, an internationally respected scholar, author, and story-teller reflective of his southern roots, ranks in the upper tier of luminaries from Alabama. While living the majority of his life in Harlem among his artist friends and the ever present sound of the jazz he loved, Murray always fondly remembered Alabama as home and return visits were special occasions for him, family, and old friends."
ASCA presented Murray with its Distinguished Artist Award in 2003. His other awards include the Ivan Sandrof Award for Contribution to American Arts & Letters, National Book Critics Circle, 1996; the Alabama Author Award, Alabama Library Association, 1975, for Train Whistle Guitar; and the Lillian Smith Book Award, Southern Regional Council, 1974, for Train Whistle Guitar. He was inducted into the American Academy of Arts and Letters in 1997.
Murray grew up in Magazine Point, outside of Mobile. He left the area for good when he enrolled in Tuskegee Institute as a freshman, but he often wrote about the area in both his fiction and nonfiction, and he readily reminisced about the town that influenced his early work.
"Albert Murray is a major intellectual heavyweight," said John Sledge, former book reviews editor for the Mobile Press-Register. "Mobile in part made him—his education at the Mobile County Training School, his childhood rambles at Magazine Point, the Gasoline Point of his novels."
"I first got to know Albert Murray when I spent a day with him in New York City in 1997 for a profile I was writing," said fellow Mobilan Roy Hoffman, author of Back Home: Journeys through Mobile, which includes a profile of Murray. "He was a delight—brilliant, slyly funny, talkative and upbeat, warm and welcoming. We had lunch in Greenwich Village, stopped in for books at the Strand, and browsed through albums at a record shop. Like his amazing breadth of creative writing, his conversation ran from literature to blues to hometown tales to memories of Mobile, and he made Manhattan feel like a small town."
Mel Watkins, eulogizing Murray in The New York Times, writes, "Mr. Murray was one of the last surviving links to a period of flowering creativity and spreading ferment among the black intelligentsia in postwar America, when the growing civil rights movement gave rise to new bodies of thought about black identity, black political power and the prospects for equality in a society with a history of racism."
Murray first met Ralph Ellison, author of the literary classic The Invisible Man, lifelong friend, and sometimes literary rival, when they were students at Tuskegee Institute. Ellison once wrote of Murray, "He has the imagination which allows him to project himself into the centers of power, and he uses his imagination to deal with serious problems seriously and as though he were a responsible participant in the affairs of our nation and of our time."
In his 1996 New Yorker article "King of Cats," noted historian Henry Louis Gates Jr. writes, "[Albert Murray] has spent a career believing in things like the gospel according to Ma Rainey and Jimmy Rushing and Duke Ellington. More broadly, he believes in the sublimity of art, and he has never been afraid of risking bathos to get it."
"Albert Murray will be missed in many ways but clearly his spirit will live on through his work and the many stories of those fortunate enough to have shared time with a truly remarkable man," added Head.
Read more about Albert Murray in The Encyclopedia of Alabama and This Goodly Land.
(Photo by Jeanie Thompson)