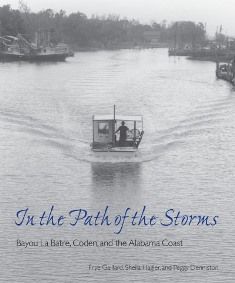 A documentary based on a book co-authored by University of South Alabama Writer-in-Residence Frye Gaillard and Bayou La Batre teachers Sheila Hagler and Peggy Denniston won a regional Emmy for Outstanding Achievement, Television Programming Excellence in the category of Documentary-Cultural from the National Academy of Television Arts and Sciences on June 8.
In the Path of the Storms was directed by Mike Letcher. Gaillard said the film "tells the story of the endangered, but treasured way of life in Bayou La Batre, Coden, and the other fishing villages on the Alabama Coast."
The 55-minute documentary includes interviews and stories from Bayou La Batre residents, explaining the community's struggles and challenges during Hurricane Katrina and the BP oil spill.
"I'm really happy for Mike Letcher and for Sheila Hagler and Peggy Denniston, two teachers in the community who introduced both Mike and me to the people of Bayou La Batre," Gaillard said. "But I'm most happy for the people of the bayou, who are, after all, the stars of the film."
The University of Alabama Press published In the Path of the Storms in 2008.