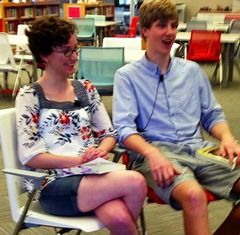 Birmingham author J. Mark Hart
recently teamed up with Pro Start Academy to produce a Teen Video Book Report for his new young adult novel, Fielder's Choice. Hart gave Altamont School students copies of his book and spoke with them in preparation for the short video.
Set in 1969 Birmingham, Fielder's Choice is narrated by a teen athlete with a conscience. Brad Williams struggles with what he sees as unfair treatment of a new shortstop on his baseball team, though he needs to play that position himself to win a college scholarship.
Founded and operated by NFL athletes, Pro Start Academy helps young people develop as students as well as athletes.
Photo: Altamont School students discuss Fielder's Choice. (Photo by Judy Jones)