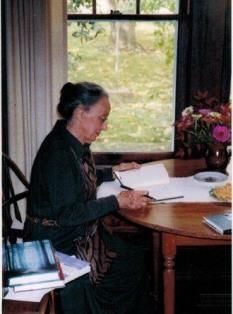 The Alabama Writers' Forum is saddened to learn that celebrated author Mary Ward Brown, 95, died this morning in Marion, Ala. A native and longtime resident of Hamburg in Perry County, Brown was a graduate of Judson College. She is survived by her son, Kirtley Ward, his wife, Susannah, and their daughters, Helen and Mary Hays.
"On behalf of the Alabama Writers' Forum I want to express our sorrow over the passing of Mary Ward Brown," said Kirk Curnutt, Forum board president. "Not only was she an astonishing talent, but her career was comfort to a lot of us knowing that talent blooms later in life."
Brown began writing in her fifties, choosing earlier to raise her son and help her husband, Kirtley, around the farm. After his death, she began publishing short stories in national magazines and journals.
Her first volume of short stories, Tongues of Flame (E.P. Dutton, 1986) won the PEN/Hemingway Award (1987). More honors followed, including the Alabama Author Award (1987), Lillian Smith Book Award (1991), and the Hillsdale Fiction Prize (2003).
She received the Harper Lee Award for Alabama's Distinguished Writer of the Year in 2002.
In his letter of nomination for Brown's Harper Lee Award, Norman McMillan, author and Professor Emeritus of English at the University of Montevallo, wrote, "Mary Ward Brown's style distinguishes her from all her fellow writers in Alabama, as fine as many of them are. She writes with such absolute precision, lucidity, and economy…. Her works are so carefully and deliberately crafted that one would have to place her in the classicist's corner. The spontaneous overflow of powerful feelings would be a revolting idea to her, I suspect."
McMillan later adapted Brown's short stories "It Wasn't All Dancing," "New Dresses," and "The Amaryllis" into his drama, Ashes of Roses.
The University of Alabama Press published Brown's second short story collection, It Wasn't All Dancing (2002), and her memoir, Fanning the Sparks (2009). Elizabeth Motherwell,
Senior Acquisitions Editor for the Natural Sciences at the publisher, writes of her colleague, "Through her writing and her character, Mary has shown us an ascendant life—one not entirely satisfied with this world and imagining another, more civil and tender. That's why so many of us love her and will feel mournful and bereft at her passing."
Friend and AUM Associate Professor of English Nancy Anderson also added a personal note. "Recently I was reporting to Wayne Flynt (writer and Auburn University Professor Emeritus of History) about my husband Rick's and my visit with her. (She was very frail but still sharp)," she wrote. "We were musing about why this is so hard for us. I finally concluded before we hung up that her writing had brought much pleasure into my life and her friendship has been a beautiful part of my life."
John Sledge, former Book Page editor at the Mobile Press-Register, wrote of a 2002 visit with Brown at her farmhouse in Hamburg. That piece, "Black Belt Chronicles Richly Deserve Recognition," is reprinted in his recently published collection, Southern Bound: A Gulf Coast Journalist on Books, Writers, and Literary Pilgrimages of the Heart (University of South Carolina Press, 2013). Upon hearing of Brown's passing, Sledge wrote, "Mary T. (as she's familiarly known) was an extraordinarily gracious woman and a writer of enormous power and insight. She was our Chekhov."
Funeral arrangements are pending. In lieu of flowers, Brown requested that donations be sent to Judson College, Rural Studio at Auburn University, or PBS.
(Photo by Nancy Anderson)