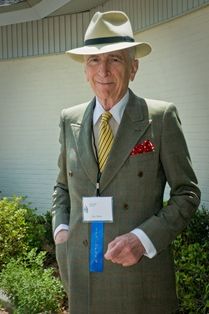 "Show up in person; never use a phone," said Gay Talese, recipient of the 2013 Harper Lee Award for Alabama's Distinguished Writer of the Year. "People have admiration for people who have the courtesy to show up in person. Dress well."
Dressed well in his tailored, double-breasted suit, custom Italian shoes, and Panama hat—"A man is not completely dressed without his hat," he once said—Talese, the son of a tailor, was concluding an anecdote about getting his first job in journalism as a copyboy at The New York Times. The story also explained this Ocean City, N.J. native's connection to Alabama.
The creator of "the art of hanging out," author of the bestsellers Honor Thy Father and Thy Neighbor's Wife, and longtime contributor to Esquire and other top magazines, Talese was in Monroeville on April 26 to receive the honor at the annual Awards Luncheon during the Alabama Writers Symposium.
Never a good student, "including English," the pioneer of New Journalism explained that he was "rejected by twelve colleges in a 150 mile radius" of his hometown. The family physician, Birmingham native Aldridge J. Crowe, suggested the University of Alabama, so Talese ended up in Tuscaloosa, where he covered sports for The Crimson White. "I didn't have good grades," he said, "but I had curiosity."
Upon graduation, a classmate, Jimmy Pinkston, suggested Talese look up his cousin, Turner Catledge, the managing editor of The New York Times. Talese took his friend's advice and arrived at the Grey Lady unannounced. As it turned out, the editor and the classmate were distant cousins who had never met. "I dressed very carefully," he said, "advertising my father's craft." Hence, he said, "Two weeks later The New York Times called, offering me a job as a copyboy."
"In his Harper Lee Award acceptance speech, Gay Talese reminded us of his deep bond with Alabama," said AWF Executive Director Jeanie Thompson. "Some may know that Talese first came South from New Jersey at seventeen to attend the University, but people may not be aware of his life-long relationship with Alabama, where he learned to be a journalist by covering sports for The Crimson White in a column dubbed Sports Gay-zing. People may associate him with popular works such as Honor Thy Father or Thy Neighbor's Wife, but he implied to us in Monroeville that he discovered himself as a reporter by covering the state's unfolding civil rights story from Selma in the early '50s to Bloody Sunday to Vivian Malone's successful integration of the University of Alabama.
"Talese discovered his calling for a lifetime as a reporter in Harper Lee's home state," Thompson said. "I saw. I was there," Talese told Symposium participants the next day at the Monroe County Courthouse during an informal interview, referring again to his professional creed to report on the scene.
"Like no other writer, Talese has given us a view of Alabama through many layers of history, and he encourages us to consider again who we are and where we have been," Thompson said. "The Alabama Writers' Forum is proud to have selected Gay Talese for the 2013 Harper Lee Award."
The Harper Lee Award for Alabama's Distinguished Writer of the Year, presented annually by Alabama Southern Community College at the The Alabama Writers Symposium in Monroeville, is made possible through a generous grant from George F. Landegger, Chairman, Parsons & Whittemore.
Previous recipients include Fannie Flagg (2012), Winston Groom (2011), Carolyn Haines (2010), Rick Bragg (2009), Rebecca Gilman (2008), William Cobb (2007), Wayne Greenhaw (2006), Andrew Hudgins (2005), Sonia Sanchez (2004), Rodney Jones (2003), Mary Ward Brown (2002), Sena Jeter Naslund (2001), Helen Norris (2000), Madison Jones (1999), and Albert Murray (1998).
(Photo of Gay Talese by Terry Bruno-fotowerks)