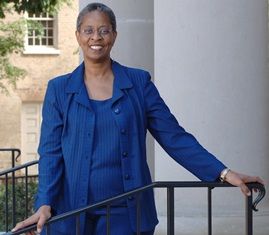 As part of American Women Writer's National Museum's 50-state project to showcase women writers from each state, the Alabama Center for the Book will co-sponsor a presentation by Forum board member Dr. Trudier Harris, May 15, 2013, in the McLendon Room of the National Press Club, 52 14th St. NW, Washington, D.C.
Harris' lecture, "Bama Bones: A Black Southerner Talks Place & Creativity," will begin at noon. The one-hour program is free and open to the public.
Harris will be introduced by Dr. Dana A. Williams, chair and professor of African American Literature in the Department of English at Howard University. "I met Dr. Harris when I was a graduate student at Howard. She has been a wonderful mentor and teacher for so many of us. My grandparents are from Jackson, Alabama," Williams said.
"Alabama has dominated everything I've done and written," Harris said. "Greene and Tuscaloosa County farmers influenced my poetry. My mother's work as a domestic led to my first scholarly book. Alabama's weather, landscape, family tradition, and crop cultivation served as reference points, including in my memoir Summer Snow."
She credits that invisible tether with inspiring her "even more" since she came back to Alabama in 2009 to serve as an English professor at the University of Alabama. Her specialty is African American literature and folklore on which she has written or edited twenty-four volumes, and numerous scholarly articles.
Her last book, The Scary Mason-Dixon Line: African American Writers and the South, was published by LSU Press in May 2009. Choice designated it one of the Outstanding Academic Titles for 2009 in its Best of the Best listings. It also won The College Language Association Creative Scholarship Award for 2010. She just completed a book manuscript titled Martin Luther King, Jr., Heroism, and African American Literature, which is forthcoming from the University of Alabama Press.
Before retiring and returning to her home state of Alabama, Harris was the J. Carlyle Sitterson professor of English at the University of North Carolina at Chapel Hill. There she taught courses in African American literature and folklore at undergraduate and graduate levels. In her thirty-six years of full-time teaching, she has also served on the faculties of The College of William and Mary and Emory University.
She has received numerous teaching awards including the William C. Friday/Class of 1986 Award for Excellence in Teaching (2000), the Eugene Current-Garcia Award for Alabama's Distinguished Literary Scholar of the Year (2002), the UNC System Board of Governors' Award for Excellence in Teaching (2005), the John Hurt Fisher Award of the South Atlantic Association of Departments of English (2005) for the outstanding contributions she has made to the field of English scholarship throughout her career, and the inaugural George H. Johnson Prize for Distinguished Achievement by an Institute for the Arts and Humanities Fellow at UNC (2008).
Harris was born in 1948 on a farm near Tuscaloosa, the sixth of nine children of Terrell and Unareed Harris.
The Alabama Center for the Book is the Alabama Affiliate of the Library of Congress Center for the Book and is housed in the University of Alabama Libraries at the University of Alabama.
(Photo of Trudier Harris by Dan Sears-University of North Carolina News Service)