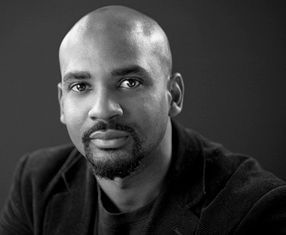 The Alabama Writers' Forum will again offer outreach to teachers and students in conjunction with the eighth annual Alabama Book Festival. On Friday, April 19, three Book Festival poets will visit G.W. Carver High School to read from their work and discuss the importance of poetry writing in their lives. The same day, teachers will gather at Troy University Montgomery Campus for a day of workshops and interaction with several Book Festival authors.
Poets Mitchell Douglas, Derrick Harriell, and Lita Hooper will visit G. W. Carver and discuss their poetry collections that all deal with history, both personal and African American. Douglas' latest poetry collection, \blak\ \al-fə bet\: poems, draws heavily on his family roots in Selma, Alabama. Harriell's Cotton was published by Willow Books and deals with the African American historical relationship with cotton, from the "black men's blues" perspective. Lita Hooper's Thunder in her Voice is a poetic response to the slave narrative of the historical figure Sojouner Truth. The poets will read from their work the next day in the Alabama Book Festival's Poetry Tent.
Teachers from across the state attending the annual Alabama Book Festival creative writing workshop will take poetry writing in the morning session with Alabama-native Juliana Gray, winner of the Orphic Prize for Poetry for her collection Roleplay. In the afternoon teachers will learn about graphic formats for poetry and prose from Kathleen Driskell, author of Peck and Pock: A Graphic Poem, and take part in another language exercise. Lila Quintero Weaver, whose Darkroom: A Memoir in Black and White was released in 2012 from The University of Alabama Press, will talk about why she chose the graphic prose format and lead teachers in a writing exercise.
During breaks teachers may purchase copies of the authors' books and have them signed.
According to AWF executive director Jeanie Thompson, "All teachers attending the workshop will take home lessons to use with their students, made more meaningful by examples of what they themselves have written."
Funding for the teacher workshop at Troy and G.W. Carver outreach is provided by the Support the Arts Car Tag, Vulcan Materials, The Poarch Band of Creek Indians, Troy University Montgomery Campus, and the Alabama State Council on the Arts, with additional support from the National Endowment for the Arts. For more information or to register, call 334-265-7728 or writersforum@bellsouth.net.
(Photo of Derrick Harriell courtesy of Derrick Harriell)