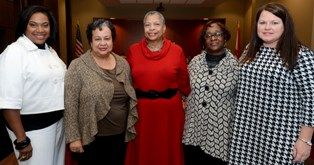 In the early morning hours of January 23, 2012, an EF3 tornado roared down Old Springville Road in Clay. Its widespread path of destruction included the Alabama Department of Youth Services (DYS) Chalkville Campus. Though the students and staff there suffered no serious injuries, many of the campus buildings sustained irreparable damage. The young women there were transferred to group homes or other programs for troubled teens. Thus ended Writing Our Stories' fourteen-year run at Chalkville's Sequoya School.
On a bright, sunny morning on November 8, 2012, a group of DYS and Alabama Writers' Forum (AWF) administrators and staff, invited guests, and family members gathered in the administration building on the DYS Mt. Meigs Campus to celebrate the diligence of the Writing Our Stories (WOS) Chalkville team—teaching writer Priscilla Hancock Cooper, cooperating teacher Janet Dixon, and media specialist Mary Rencher—and the release of After the Storm, a compendium anthology of the work of WOS student writers from the fourteen-year Chalkville residency and the one semester that Cooper spent at the Working On Womanhood (W.O.W.) program in Tuscaloosa after the tornado.
Welcoming the audience, DYS Executive Director J. Walter Wood Jr. addressed the WOS Chalkville team, "Today is a unique and special recognition of your years and years and years of service to the young women who have come through our facilities. I want to thank you from the bottom of my heart. People say this program must be rewarding. Well it is rewarding. You are special and those girls are special."
In her opening statement, Jeanie Thompson, AWF executive director and founder of the WOS program, praised the women and their distinctive work with the program, saying, "Sometimes when you do something unique and work outside of the box, you can accomplish things that you couldn't inside the box."
DYS Superintendent of Education Tyrone Yarbrough recalled past WOS book release events at Chalkville. "I think of those young women who walked into that chapel in their dresses and nice outfits," he said. "They felt special. And they are special."
Cooper, who edited the anthology, reminisced about her long tenure with WOS. "It's been a fabulous experience and opportunity," she said. "In this book you will find humor. You will find wisdom beyond the (student writers') years. You will find tragedy."
Continuing, she said, "I want to say thank you to my colleagues. It's wonderful to work with people who share your passion and commitment."
Cooper then read the title poem from her first Chalkville anthology, Let Me Talk To You! by Z.H. (For legal reasons, student writers are identified by their initials.)
"Let Me Talk To You!"
Will you stop for a minute
And lend a listening ear
Listen to my words,
Help me calm my fears
Please be my friend
And tell me that you care
Tell me you love me
Tell me you'll be there
I'm crying out for love
For someone to feel my pain
Please somebody help me,
Shelter me from the rain.
Please give me a hug,
A kiss, a card, a smile,
That's something I haven't had
For a long while
It'll only take five minutes
To tell you how I feel
Please listen to me
And care for me for real
Tell me it's okay
And it'll be all right
Tell me there's a sunny day
After the stormy night
"The years I worked with Ms. Cooper were often challenging because many of our students couldn't write," said Dixon, who will retire from DYS in two weeks. "I always told them, 'You don't have to be a writer to be in the class. You only have to try.' And we had success every year." She chose the poem "Serenity" by W.B.S. to share with the audience. ("Serenity glides into my room as silent as a whisper. / Serenity is wearing a gown of flowing white silk. / Serenity has long black hair as smooth and glistening as satin. / …."
Rencher mentioned that she had been retired from DYS for two days, drawing a chuckle from the audience. She then read "Dear God, I'm Only Seventeen" by N.N.K. ("Dear God, / I know I don't deserve a second chance. / I've just begun to dance. / …."
Retired Sequoyah School principal Cheryl Bufford thanked her former colleagues, saying, "I hope I thanked you enough." Her poetic selection was "Never Look Back" by N.D.S. ("Never look back with regret— / For the days that might have been / Nor the promises made that were never kept— / ….")
Cooper closed the recitations with "My Praise You List" by M.H.V. ("Father, I praise you for: / The split ends on my split ends. / The associates I used to call my friends. / ….)
At the conclusion of the ceremony, gifts were presented to the team. Dixon and Rencher presented Cooper with a copy of Oh, The Places You Willl Go by Dr. Seuss, a book the teachers often used as a tutorial. Thompson presented Dixon and Rencher with silver bowls and ceramic angels. Cooper also received a crystal vase, inscribed with the AWF logo and the words: In honor of / Priscilla Hancock Cooper / Teaching Writer / Writing Our Stories / 1998-2012.
With that, the audience was invited to a reception in honor of the Chalkville team.
Writing Our Stories is an award-winning creative writing collaborative program whose partners include the Department of Youth Services, the Youth Services teams with universities for sex offender programs. project, and the Alabama Writers' Forum. Additional funding has been provided by the Alabama State Council on the Arts. The Children's Trust Fund provided funds for the WOS Curriculum Guide.
Copies of this year's anthologies are available from the Forum for a $5 shipping and handling charge for each book. To order, contact the Forum at 334-265-7728, toll free at 866-901-1117, or at writersforum@bellsouth.org.
Photo: (from left) Cheryl Bufford, Mary Rencher, Priscilla Hancock Cooper, Janet Dixon, & former Sequoya School principal Stacey Crowell (photo by Julie Bennett)