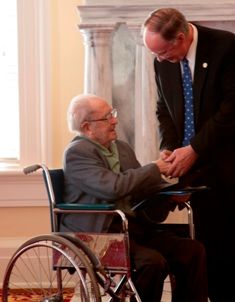 "A few months before he signed the National Foundation on the Arts and Humanities Act," said Governor Robert Bentley at the commissioning ceremony for Andrew Glaze on November 5 at the Alabama State Capitol, "President (Lyndon) Johnson spoke before a gathering of artists at the White House, saying, 'No people can afford to neglect the creative minds among it. They enrich the life of the nation. They reveal the farthest horizons of man's possibilities.'
"Alabama offers so much, whether it's our national resources, our industries, or our contributions to literature and the arts. Today I am honored to commission Andrew Glaze as our new Poet Laureate."
Some thirty people assembled in the Old Supreme Court Archives to honor the ninety-two-year-old poet, playwright, and journalist. Among the audience were Glaze's wife, Adriana Keatherly; his brother, Robert Glaze, and his wife, Barbara; and his son-in-law, Charles Searle. Also present were representatives from The Seasoned Performers
and South City Theatre, and from the event sponsors, the Alabama Writers Conclave, NewSouth Books, the Alabama State Council on the Arts, and the The Alabama Writers' Forum.
"Alabama has some very talented people who make a significant impact on our state, especially in the arts," said Gov. Bentley. "Here today we're celebrating a man who has made a great impact not only on the state, but on everyone who has read his work."
After Gov. Bentley read highlights from the poet's career and presented him with the official proclamation, and after Alabama State Poetry Society President Barry Marks awarded him an engraved pocket watch to commemorate the event, Glaze read "Mr. Frost's Party," a new, unpublished poem.
"Many people have asked me what a poet laureate is," remarked Glaze with a gleeful chuckle. "Well, I am a normal man who wears glasses and uses hearing aids. I hope to learn what a poet laureate is."
Continuing, he quipped, "I must mention two things. One: Most poetry is awful. Two: Most teachers don't appreciate poetry enough to teach it."
His advice to young writers: "Develop good work habits. When I worked at the (Birmingham) Post-Herald if I had an idea for a poem or a play, I'd rush home after my workday and work on it."
With a busy day of last-minute campaigning, Gov. Bentley apologized to Glaze and to the audience for his necessary departure. Leaving, he leaned into Glaze and whispered, "You do Alabama great."
Concluding the ceremony, AWF Executive Director Jeanie Thompson read "Buick," a poem from Glaze's book, Someone Will Go On Owing: New and Selected Poems, 1966-1992 (Black Belt Press, 1998.)
The audience then reassembled at the NewSouth Books for a reception and book signing.
Andrew Glaze was selected as the eleventh Poet Laureate of Alabama during the Alabama Writers' Conclave's annual meeting in Huntsville, July 20-22. His four-year term will begin in 2013.
Glaze is the author of eight books of poetry, and has published two collections of selected works. Glaze initially won critical acclaim with the publication of his first book, Damned Ugly Children: Poems (Trident Press, 1966). According to the Encyclopedia of Alabama, "Glaze has received Poetry magazine's Eunice Tietjens Award, and the American Library Association included his book Damned Ugly Children in its Notable Books List for 1966. Library Journal chose I Am the Jefferson County Courthouse as one of the best small press titles of 1981. He has won a National Hackney Award, and his selected poems, Someone Will Go On Owing, received the Best Book of the Year Award from the Southeastern Booksellers' Association in 1998. He was also the first recipient of the ABA Online Award the same year."
Born in Nashville in 1920, Glaze soon moved with his family to Birmingham, where his father practiced medicine. He attended Harvard College and served as a lieutenant in the U.S. Army Air Corp during World War II. After the war, he briefly attended Stanford University.
Glaze eventually returned to Birmingham, where he worked for nine years as a reporter for the Birmingham Post-Herald. He moved to New York in 1957 after he testified against a deputy sheriff during a civil rights trial. There, his career flourished with publications of his poems and productions of his plays. After several years in Miami, Glaze returned to Birmingham in 2004.
Act No. 92 of the 1931 Alabama Legislature created the honorary office of Poet Laureate of Alabama. The poet laureate is designated by the Alabama Writers' Conclave, a voluntary organization of Alabama historians, playwrights, fiction writers, poets, and newspaper writers. The Writers' Conclave designates a suitable candidate and upon the election of a nominee by a majority of the membership at any annual meeting, the name is certified to the governor. The governor then issues a commission to the poet laureate.
The term of office of the poet laureate was initially indeterminate. The term was changed to four years by an amendment to the constitution of the Alabama Writers' Conclave that became effective in 1983. This amendment also limits the poet laureate to one four-year term and requires that a poet laureate nominee have resided in Alabama for at least fifteen years. Membership in the Alabama Writers' Conclave is not a requirement for nomination as poet laureate.
Photo: Gov. Robert Bentley (right) congratulates Andrew Glaze on his new commission. (Marian Lewis)