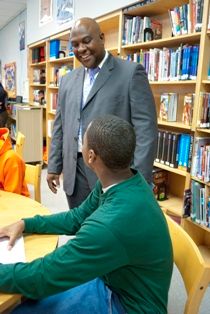 "I'm a huge fan," said Jeh Jeh Pruitt, Fox 6 broadcast journalist and co-founder of The Dannon Project, addressing a group of newly published student writers. Holding his copy of From Darkness to Light high, he said, "When I read this book I felt every word."
Pruitt gave the keynote address at the November 1 Writing Our Stories book release event in the Chapel of the Department of Youth Services (DYS) Vacca Campus in Birmingham. From Darkness to Light is an anthology of poems and short stories from the students at the Adele Goodwyn McNeel School at the DYS facility. Teaching writer Tony Crunk edited the book. Harold Abram Jr. is the cooperating teacher.
Three published authors read selections of their work, and nine students from the new class read a favorite poem from the anthology and one of their recently completed poems. Students, guests, and DYS faculty, staff, and administrators attended the event.
"The reason I am such a fan is that I have heard many stories orally that I also read in this book," said Pruitt, still holding the anthology and nodding to the students. "I've always been told that everyone has a book in them. The writing is not the hard part. Getting published is the hard part."
Pruitt offered the assembled students anaphoric bits of advice.
"Open your minds," he said. "It is cool to get good grades. It is cool to hang out with nerds. It is cool to get to know someone who is different from you. Even if they are different from you, they have probably gone through the same things as you."
He also offered words of encouragement.
"I encourage you to learn," he said. "I encourage you not to blame anyone—not your mother, not your father, not your cousin, not your friend. I encourage you to forgive yourself. No one else will forgive you if you don't forgive yourself. I encourage you to read. Read Olaudah Equiano. It was only after he learned to read and write that people learned of the conditions of slavery. He never gave up. I encourage you to never give up."
Concluding, Pruitt offered final words of encouragement. "People want to know what you have to say," he said. "Write down your life. Live your life to the fullest. And make certain that the last three pages of that book are positive."
Introducing his students, Crunk said, "These last four years are one of the most rewarding teaching experiences I've had. These students are smart, dedicated, and hard workers."
C.B., who received a Poetry Certificate of Merit in the 2012 Alabama High School Literary Arts Awards and Scholarship Competition, opened the readers segment of the event with his poem "If I Could Turn Back the Hands of Time":
"If I Could Turn Back the Hands of Time"
If I could turn back the hands of time
I would have listened to my mother
I would've never tried to hustle.
If I could turn back the hands of time
My uncle would still be alive
I wouldn't have kept that .45.
If I could turn back the hands of time
I wouldn't have robbed that kid
I would change every bad thing that I did.
If I could turn back the hands of time
I would've stayed in school
And everything would be cool.
At the conclusion of the event, the writers and their guests assembled in the campus media center for a reception. There, the students and Pruitt signed copies of From Darkness to Light.
Writing Our Stories is an award-winning creative writing collaborative program whose partners include the Department of Youth Services, the ABSOP project, and the Alabama Writers' Forum. Additional funding has been provided by the Alabama State Council on the Arts. The Children's Trust Fund provided funds for the WOS Curriculum Guide.
Copies of this year's anthologies are available from the Forum for a $5 shipping and handling charge for each book. To order, contact the Forum at 334-265-7728, toll free at 866-901-1117, or at writersforum@bellsouth.org.
The next Writing Our Stories ceremony is November 8 at 10 a.m. in the Mt. Meigs Administration Building. The event will honor Priscilla Hancock Cooper, who is leaving the program after serving for fourteen years as the teaching writer on the DYS Chalkville Campus.
Photo: Jeh Jeh Pruitt talks poetry with a Writing Our Stories student. (photo by Cyndi Grimes)