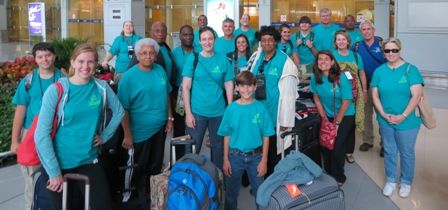 Monroeville's community theatre troupe, the Mockingbird Players, has traveled to Hong Kong to stage Christopher Sergel's adaptation of Harper Lee's Pulitzer Prize-winning novel, To Kill a Mockingbird. The group will present five performances at the Asia Society Hong Kong Center, October 12-14.
"It is no coincidence that we are bringing To Kill a Mockingbird to Hong Kong," said S. Alice Mong, executive director of Asia Society Hong Kong. "Celebrating its 50th anniversary this year, the black and white movie brings back memories to many people around the world. Youths having read this great novel and watched the movie had their first moral lesson in defending human dignity and upholding civil rights despite all odds. The play by the Mockingbird Players enacts this very telling portrait of life – no matter when and where the play takes place."
The Mockingbird Players performs annually to sold-out crowds at the Old Monroe County Courthouse during the Alabama Writers Symposium and other weekends in the spring. The play has traveled abroad previously, and it has been presented at the Kennedy Center for the Performing Arts in Washington, D.C.
The play breaks traditional conventions of space, movement, and the role of the audience by placing audience members inside the play. The all-male jury, ultimately convicting Tom Robinson, is chosen from the audience of each performance.
Asia Society Hong Kong Center will reconstruct the indoor and outdoor scenes, including the Monroe County courtroom.
As a prelude to the play, the Asia Society Hong Kong Center screened the digitally-restored 1962 film classic on October 3, followed by a screening of the Mary Murphy's documentary Hey Boo: Harper Lee and To Kill a Mockingbird on October 4.
The Mockingbird Players' To Kill a Mockingbird is presented jointly by Asia Society Hong Kong Center, Alabama China Partnership, and Sozo Group.
Photo: The Mockingbird Players arrive at the Hong Kong airport. (photo by Connie Baggett)