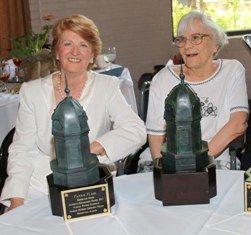 The Alabama Writers' Forum invites nominations for the Harper Lee Award for Alabama's Distinguished Writer of the Year 2013. The award will be made to a living, nationally recognized Alabama writer who has made a significant, lifelong contribution to Alabama letters. The honor recognizes those who primarily write creative nonfiction, drama, fiction, memoir, poetry, or a combination of these. This is not an award for journalistic, historical, nor scientific writing, nor is it an award for service, scholarly research, nor teaching. Nominations must be received by November 1, 2012.
The award carries a $5,000 stipend and an original Frank Fleming bronze rendering of the Monroeville Courthouse Clock Tower. The Harper Lee Award for 2013 will be presented with its sister award, the Eugene Current-Garcia Award for Alabama's Distinguished Scholar of the Year, at the Alabama Writers Symposium at Alabama Southern Community College in Monroeville, April 25-27, 2013.
To nominate Harper Lee Award candidates, write a letter telling briefly why the writer is eligible to be considered for the award. List her or his books, awards, and other credentials as a published writer. A brief resume of the writer (one-two pages maximum) is helpful but not required. Do not send photocopies of works, reviews, etc. Do not send books. The awards committee may request supplementary material. Be sure to list the nominator's daytime phone number. E-mailed nominations will be accepted if they are sent in an MS Word or RTF attachment.
Mail letters of nomination to The Harper Lee Award Selection Committee, The Alabama Writers' Forum, PO Box 4777, Montgomery, AL 36103-4777.
E-mail letters of nomination to writersforum@bellsouth.net, subject line: HARPER LEE AWARD.
The Harper Lee Award and the Eugene Current-Garcia Award are made possible through a generous grant from George Landegger, CEO of Parsons and Whittemore.
All nominations and all deliberations of the awards committee are confidential. For more information, call the Forum office at 334-265-7728, toll free at 866-901-1117, or e-mail writersforum@bellsouth.net.
View Previous Harper Lee Award recipients
(Photo of 2012 HLA recipient Fannie Flagg with Harper Lee by Alex Roberts)