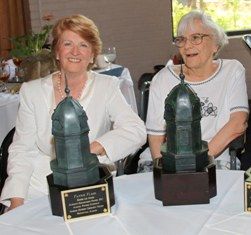 Attendees at the Alabama Writers Symposium in Monroeville, Alabama, were joined at the annual Harper Lee Award luncheon by an unexpected guest. Nelle Harper Lee, long- time resident of Monroeville and author of the international bestseller To Kill a Mockingbird, attended the conference for the first time in its fifteen year history. Lee came to see Alabama-born author Fannie Flagg receive the award named in honor of the Pulitzer Prize winner and Monroeville native.
George F. Landegger, CEO of Parsons and Whittemore, and underwriter of the Harper Lee Award for Alabama's Distinguished Writer of the Year and its sister award for literary scholarship, the Eugene Current-Gracia Award, persuaded Ms. Lee to attend. In an unexpected move for conference planners, Mr. Landegger arranged for Ms. Lee to receive her own Frank Fleming Clock Tower Bronze, presented each year to the Harper Lee Award recipient. The audience stood and applauded Ms. Lee twice—first when she was introduced as attending and again when Mr. Landegger presented her with her own edition of the Clock Tower Bronze.
The fact that her literary encourager was present at the event was moving for Flagg who had planned to tell a personal story about Ms. Lee before she knew of the surprise visit. Recounting two significant instances of Ms. Lee's generosity to her in her early writing career, Flagg credited her ability to continue as a writer to Lee's encouragement at a critical time.
"She is one of the most intelligent women I have ever known, brilliant and delightful," Flagg said. "The lady has been an angel in my life."
Promising to "represent my state to the best of my ability" as a Harper Lee Award-winning writer, Flagg reiterated her admiration for Lee. "I admire the way she has lived her life with quiet dignity and incredible spirit," she said. "I also admire her generosity to other artists." Flagg told the audience that Ms. Lee had given an endorsement quote for her second book Fried Green Tomatoes at the Whistle Stop Café, which provided further encouragement.
Al Head, executive director of the Alabama State Council on the Arts, introduced the Harper Lee Award, and named the previous fourteen winners. Acknowledging this distinguished list, Head praised the work of literary artists statewide. The Alabama State Council on the Arts has been a major underwriter of the conference since its inception in 1998, along with the Alabama Humanities Foundation, Alabama Power Foundation, the Alabama Department of Tourism and Travel, and others.
"Fannie Flagg has made her mark in the literary world, and we welcome her back to her home state," said Jeanie Thompson, executive director of the Alabama Writers' Forum, who introduced Flagg and with George Landegger presented her
the award.
A New York Times bestseller, Flagg is the author of the novels I Still Dream about You (Random House, 2010); Can't Wait to Get to Heaven (Ballantine Books, 2007); A Redbird Christmas (Random House, 2005); Standing in the Rainbow (Ballantine Books, 2002); Welcome to the World, Baby Girl! (Ballantine Books, 1998); Fried Green Tomatoes at the Whistle-Stop Café (Random House, 1987); and Coming Attractions: A Wonderful Novel (1981; reprinted as Daisy Fay and the Miracle Man, Ballantine Books, 1992). Her writing awards include the Alabama State Council on the Arts Distinguished Artist Award (2001), First Place in Fiction Award from the Santa Barbara Writers Conference (1978), and others.
Also known for her work as an actress, producer, and writer for stage, film, and television, Flagg received an Academy Award nomination and the University of Southern California Scripter Award from Friends of USC Libraries for her screenplay, Fried Green Tomatoes, an adaptation of her novel.
Flagg presently divides her time between California and Alabama.
Dr. William A. Ulmer received the 2012 Eugene Current-Garcia Award for Alabama's Distinguished Literary Scholar at this year's Symposium. This annual award recognizes and rewards Alabamians who have distinguished themselves as men or women of letters, specifically in scholarly reflection and writing on literary topics.
Ulmer was born and raised in New Jersey and studied at Gettysburg College, the University of Chicago, and the University of Virginia, from which he earned a PhD in 1980 with a dissertation completed under the direction of Cecil Lang. He came to the University of Alabama in 1980 and has served the University on numerous committees, as Director of the University Honors Program, and as Chair of the English Department. He is a former College of Arts and Sciences Distinguished Teaching Fellow and a winner of the University of Alabama Alumni Association's Outstanding Commitment to Teaching Award. As a scholar, Ulmer has concentrated on the poetry of the British Romantics. He is the author of articles on Shelley, Wordsworth, and Coleridge in ELH, Studies in Romanticism, Studies in Philology and other distinguished journals, and of Shelleyan Eros: The Rhetoric of Romantic Love (Princeton, 1990) and of The Christian Wordsworth, 1798-1805 (SUNY, 2001).
More than 250 people attended the awards lunch at the Community House in Monroeville, sponsored annually by Alabama Southern Community College. The conference continued Saturday with Flagg and others speaking at the Monroe County Courthouse and a closing brunch at the Community House featuring historian Wayne Flynt. Other writers who presented during the conference on Thursday and Friday included Gaylon McCollough, Brad Watson, Allen Tullos, Wayne Flynt, Irene Latham, Rachel Hawkins, Kerry Madden, Jeanie Thompson, Abraham Smith, Mary Murphy, Nancy Anderson, Kirk Curnutt, Anita Miller Garner, Peter Huggins, Jennifer Horne, Don Noble, Jacqueline Allen Trimble, and songwriter Kathryn Scheldt.
The award is made to a living, nationally recognized Alabama writer who has made a significant, lifelong contribution to Alabama letters. It includes a cash prize and a bronze sculpture by Frank Fleming of the iconic Monroe County Courthouse clock tower. The courthouse is a setting for Lee's novel To Kill a Mockingbird. The Alabama Writers' Forum, a partnership program of the Alabama State Council on the Arts, coordinates the selection of the Harper Lee Award recipient annually from nominations from the field.
This year is the fifteenth annual Harper Lee Award. Previous recipients include Winston Groom (2011), Carolyn Haines (2010), Rick Bragg (2009), Rebecca Gilman (2008), William Cobb (2007), Wayne Greenhaw (2006), Andrew Hudgins (2005), Sonia Sanchez (2004), Rodney Jones (2003), Mary Ward Brown (2002), Sena Jeter Naslund (2001), Helen Norris (2000), Madison Jones (1999), and Albert Murray (1998).
(Photo of Fannie Flagg & Harper Lee by Alex Roberts)