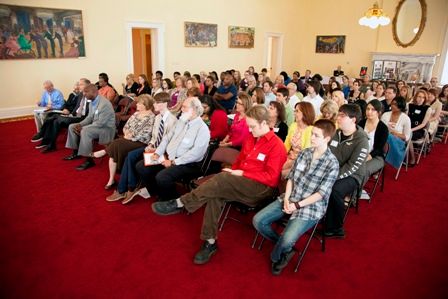 Thirty-four students representing eleven high schools gathered in the Old Archives Chamber in the State Capitol on March 21 to receive their honors in the 18th annual Alabama High School Literary Awards and Scholarship Competition. This year, the Alabama Writers' Forum, sponsor of the competition, presented a total of ninety-four awards to students at twenty-five high schools. The schools also received certificates of merit.
Prior to the ceremony, state legislators took a break from committee meetings to congratulate their young constituents. Senate Majority Leader J.T. "Jabo" Waggoner (R-District 16, Jefferson, Shelby), Sen. Paul Bussman (R-District 4, Cullman, Lawrence, Winston), Sen. Cam Ward (R-District 14, Bibb, Chilton, Jefferson, Shelby), Sen. Phil Williams (R-District 10, Cherokee, Etowah), and Rep. Greg Burdine (D-District 1, Lauderdale) posed for photographs with students from their districts.
Al Head, executive director of the Alabama State Council on the Arts, welcomed the audience of students, teachers, parents, and state dignitaries. Addressing the award recipients, Head said, "You are from a state of great writers and whether or not you pursue writing as a professional career, you are still one of those great writers."
In his introduction of keynote speaker Marlin "Bart" Barton, AWF board president and novelist Kirk Curnutt recalled conversations he and Barton had while Barton was going through the publication process of his latest novel, The Cross Garden. Curnutt said that Barton expressed some concern about the novel's release.
Curnutt told the writing students that patience is a virtue for any writer, beginning or established. "Part of what I want to celebrate today is Bart's endurance as he waited three years for the publication of The Cross Garden. Some see rejection as a failure. I say learn from your failure, and learn to ignore your failure. Learn to endure rejection. Bart is an example of that endurance."
In his keynote address, Barton seized the theme of lessons learned from rejection. "When you begin submitting to journals, agents, and editors at publishing houses, you may sometimes feel like they are shooting at you," he said. "I once got an NEA fellowship rejection the day before Christmas and a Sewanee Review rejection on a rewrite they'd asked for the day after Christmas. I felt a little like they were gunning for me, but they weren't. It was just part of the writing business, so to speak."
Barton also addressed the insecurity that comes with rejection. "I think what's hardest for most writers is the fear that while they may know they have some level of talent they suspect they don't have enough, that they lack just that little bit that would allow them to write a truly fine book, that they don't have quite what it takes to be published by the best presses.
"Handling these fears can be difficult because no matter how many poems or stories or books you may publish, these feelings won't go away—at least for most of us. But here's the thing: While these feelings may be bad for us emotionally—and they are—they are good for our writing. They keep us honest, on edge, pushing against the limits of our talent."
The Alabama High School Literary Awards and Scholarship Competition is open to Alabama high school students in grades 9-12. Categories include poetry, short fiction, drama, creative nonfiction, portfolios, and literary magazines. Cash awards are available to high school seniors through the senior portfolio competition. Judges from these fields choose the winning entries. This year's judges include Anita Miller Garner, creative nonfiction; Greta Lambert, drama; Marlin Barton, fiction; Susie Paul, poetry; Kirk Curnutt, portfolio scholarship; and Emma Sovich, literary magazine.
(Photo by Robin Cooper)