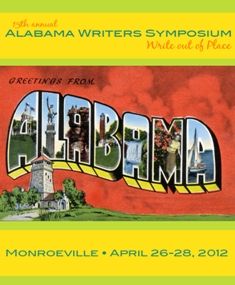 The Alabama Writers Symposium will celebrate its fifteenth anniversary in Monroeville, Alabama, Thursday, April 26 through Saturday, April 28, 2012. Exploring the theme Write Out of Place, the 2012 Symposium examines the ways in which Alabama writers are affected by their "placehood," the ways in which Alabama as a place informs their literary efforts. Some of Alabama's most celebrated writers and scholars will lead discussion sessions, readings, and workshops. Symposium highlights will include the presentation of the Harper Lee Award for Alabama's Distinguished Writer of the Year to Fannie Flagg and a keynote address by Eli Gold.
Thursday evening's opening reception at the Monroeville Community House features Eli Gold, noted author, sports broadcaster, and the "voice" of the University of Alabama football and NASCAR. Author of three books, Crimson Nation, Bear's Boys, and From Peanuts to the Pressbox, Gold will share behind-the-scenes broadcast tales and inspirational stories from his autobiography.
Friday's events include readings in Nettles Auditorium by Brad Watson, Jeanie Thompson, Abraham Smith, Allen Tullos, Rachel Hawkins, Irene Latham, Kerry Madden, and Mary Murphy. Also on Friday, participants can attend a picnic on the Old Courthouse Museum lawn, a community theatre production of To Kill A Mockingbird, and an evening performance by Alabama singer/songwriter Kathryn Scheldt.
The Friday luncheon features the presentation of the Harper Lee Award to writer, actress, and TV personality Fannie Flagg and the Eugene Current-Garcia Award for Alabama's Distinguished Literary Scholar 2012 to William Ulmer. The awards are made possible through a generous grant from George F. Landegger.
Saturday morning's schedule includes readings by Trudier Harris, Wayne Flynt, and Fannie Flagg.
Registration begins Thursday, April 26 at 1 p.m. in Nettles Auditorium on the campus of Alabama Southern Community College. New events on Thursday's schedule include golf with President Reginald Sykes at the Vanity Fair Golf and Tennis Club and historic walking tours in Downtown Monroeville.
Admission to discussion sessions is free to all registered participants, but there is a charge for other events. Tickets are limited for the Thursday "Evening with Eli Gold," the Friday Awards luncheon, the live performance of To Kill A Mockingbird, and the Saturday brunch, so participants are encouraged to register by April 5.
All events take place in Monroeville. In 1997, the Alabama legislature designated Monroeville and Monroe County as the Literary Capital of Alabama in recognition of the region's remarkable literary heritage. Among the writers who at one time or another have called Monroeville and Monroe County home are Truman Capote, author of such classics as In Cold Blood and Breakfast at Tiffany's; Harper Lee, author of the Pulitzer Prize-winning novel To Kill A Mockingbird; Mark Childress, author of seven novels including the bestselling Crazy in Alabama; and Atlanta Journal-Constitution editorial page editor Cynthia Tucker.
The Symposium is a project of the Alabama Center for Literary Arts and is sponsored by Alabama Southern Community College. Symposium supporters include George Landegger, Alabama Humanities Foundation, Alabama State Council on the Arts, BankTrust, Alabama Power Foundation, Radley's Fountain Grille, The City of Monroeville, Alabama Bureau of Tourism and Travel, and First National Bank and Trust. The Symposium is produced in cooperation with Alabama Writers' Forum, Association of College English Teachers of Alabama, Auburn University Center for the Arts and Humanities, Monroe County Heritage Museums, and the Monroeville/Monroe County Area Chamber of Commerce.
Visit the Alabama Writers Symposium website, http://www.writerssymposium.org, for schedule updates, registration forms, and hotel information. For more information phone Donna Reed, 251-575-8223 or e-mail mailto:dreed@ascc.edu.