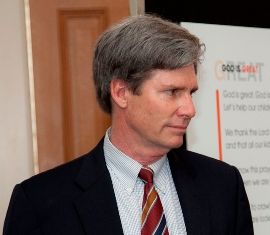 James H. "Jimmy" McLemore, a Montgomery attorney, was recently elected to the Alabama Writers' Forum's board of directors. He will serve through fiscal year 2014.
McLemore credits an aunt for instilling in him a love of literature.
"As a youngster I was puzzled when I overheard an old aunt say, 'Reading changed my life'" he said. "Literature, to me, was a school chore compelled under the threat of punishment. But the phrase interested me and in seeking to understand it, I found books off the reading list which form me to this day.
"My aunt's phrase is true. To be joined with AWF is an honor for sure. More, it is a beautiful means by which I look forward to help us make neighbors and to help all grow into the fullness of humanity."
McLemore said he found inspiration in the Forum's Writing Our Stories program.
"Some time ago I stumbled across Writing Our Stories," he said. "Stories of troubled youth appear regularly in the news—one reason a wall encircles my neighborhood. But when I read these same stories in verse, firsthand accounts by detained youth tutored in creative writing by AWF, I came to know them as my neighbor. They found more than a new voice; they found themselves…and me."
McLemore is an attorney in private practice with Capell & Howard, P.C., in Montgomery. He graduated from the University of Alabama with a Bachelor of Science from the School of Commerce ('79) and a Juris Doctor from the School of Law
('82). Upon graduation, he was commissioned in the U.S. Army Reserve and served as an Armor officer in the Army National Guard until 1993. He is a member of the Montgomery Rotary Club, the board of the Children's Center of Montgomery—a school for special children—and the board of Easter Seals of Alabama. He is co-chair of the Capstone Council Leadership Academy, and he is president-elect for The University of Alabama Libraries Leadership Board for the term 2012-2014. McLemore is a life-long parishioner of St. John's Episcopal Church. He is married to Laura Patrick of Montgomery. They have three sons, James, John Patrick, and Bonner.
"We are both excited and delighted to have a community stalwart of Jimmy McLemore's caliber joining our board," said Kirk Curnutt, Forum board president. "He brings a wealth of diverse experience to us that will help us expand our ability to appeal to different audiences supporting the literary arts. All of us are looking forward to working with him."
(Photo of Jimmy McLemore by Robin Cooper)