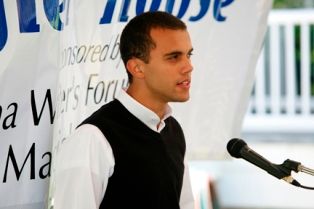 The state Poetry Out Loud Competition for Alabama will be held on February 20, 2012, at 12:30 p.m. at the Alabama Shakespeare Festival in Montgomery. The event is free and open to the public.
Alabama hopefuls will vie for another chance to place themselves as National winners in Poetry Out Loud 2012. On February 20, high school students from all over the state will convene to recite poetry, both from classic, well-known poets to original poetry, written by them especially for this competition. Accompanied by dedicated teachers who have prepared and supported them through their regional competitions, these students will have a chance at taking the title role of Alabama's 2012 Champion. That student will travel to Washington, D.C. in May to compete against the other forty-nine states, D.C., and the Virgin Islands.
Last year, Youssef Biaz, a senior from Auburn High School and a student of Davis Thompson, became the National Champion in Washington, D.C., and has been traveling all over the U.S. since, including a showing at the White House where he shook hands with President Obama and received a hug from the First Lady.
For more information, contact Diana Green at the Alabama State Council on the Arts, 334-242-4076 or diana.green@arts.alabama.gov.
Learn more about Poetry Out Loud at http://www.poetryoutloud.org/.
Photo of Youssef Biaz (Darren Freeman)